View Full Version: OUR AD
Title: OUR AD
THE SORTING HAT - September 15, 2011 01:23 PM (GMT)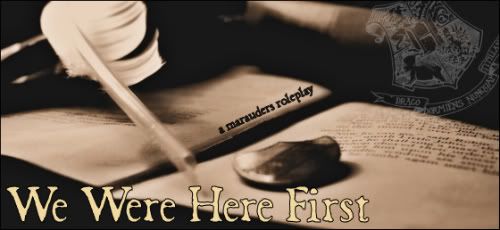 Home | Rules | App | Canon List | Face Claim

The Marauders and their peers have finally reached their final year of school at Hogwarts.
It's a bittersweet feeling. On one hand, after this year, they'll never have to stay up late
studying for another exam, or worry about staying in uniform. On the other, after this year,
many of them will have to say goodbye and go their separate ways. They'll have to put the
pranks and Hogsmeade weekends aside as they make their way into the real world.

But all is not well in the real world. Tom Riddle, now solely addressed as Voldemort, has
resurfaced into the public eye, and with his army of death eaters, he's been reaping terror
all through wizarding Britain. A resistance has formed, calling themselves The Order of the
Phoenix, and war has broken out. Voldemort is a powerful foe, though, stronger than Britain
has ever seen, and the odds seem to be in his favor.

At Hogwarts, the students aren't untouched by this turmoil, but they're relatively
safe. But once they leave, there will be nowhere to hide, and they'll be forced to take sides.
Sometimes against each other.

CODE
[align=center][font=georgia][IMG]http://i31.photobucket.com/albums/c383/Alexroma/WeWereHereFirstAdvertisement-1.jpg[/IMG]
[SIZE=4][URL=http://z15.invisionfree.com/wwhf]Home[/URL] | [URL=http://z15.invisionfree.com/wwhf/index.php?showtopic=457]Rules[/URL] | [URL=http://z15.invisionfree.com/wwhf/index.php?showtopic=460]App[/URL] | [URL=http://z15.invisionfree.com/wwhf/index.php?showtopic=463]Canon List[/URL] | [URL=http://z15.invisionfree.com/wwhf/index.php?showtopic=462]Face Claim[/URL][/SIZE]

The Marauders and their peers have finally reached their final year of school at Hogwarts.
It's a bittersweet feeling. On one hand, after this year, they'll never have to stay up late
studying for another exam, or worry about staying in uniform. On the other, after this year,
many of them will have to say goodbye and go their separate ways. They'll have to put the
pranks and Hogsmeade weekends aside as they make their way into the real world.

But all is not well in the real world. Tom Riddle, now solely addressed as Voldemort, has
resurfaced into the public eye, and with his army of death eaters, he's been reaping terror
all through wizarding Britain. A resistance has formed, calling themselves The Order of the
Phoenix, and war has broken out. Voldemort is a powerful foe, though, stronger than Britain
has ever seen, and the odds seem to be in his favor.

At Hogwarts, the students aren't untouched by this turmoil, but they're relatively
safe. But once they leave, there will be nowhere to hide, and they'll be forced to take sides.
Sometimes against each other.
[/font][/align]
Hosted for free by zIFBoards