[dohtml]<br><br><div style="width: 475; background-image: url(http://img191.imageshack.us/img191/1407/blackwoodbg.jpg);"><br><br><br><div style="width: 425; background-color: E6E6E6;"><br><br><div style="width: 400; font-family: courier new; color: black; letter-spacing: 5; font-size: 20; line-height: 0; text-align: center;">THE CARTEL</div><br>
<div style="width: 400; line-height: 95%; font-family: courier new; color: black; letter-spacing: 0.77; font-size: 10; text-align: center;">MERCHANTS! BECAUSE THE MERCHANT CANONS ARE TO DIE FOR AND SURA LONGS TO PLAY WITH THEM!</div><br>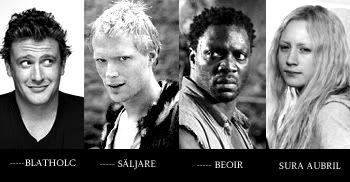 <div style="width: 400; line-height: 95%; font-family: trebuchet ms; font-size: 9; color: black; text-align: justify;"><br>
[LINK TO CANON LIST]
<br><br>
- - - - - BLATHOLC<br>
LAOCHRA/DORCHAN hybrid.<br>
The black-market florist.<br>
I'm not entirely sure how things would pan out between these two. He's a law breaker, but since when did Sura start caring about those who have wronged Riocht? I see see comedic rivalry in the making...
<br><br>
- - - - - SÄLJARE<br>
SNEACHTA.<br>
The snowball merchant. <br>
Misery loves company. These two would likely commiserate on a daily basis. Sura'd also be a faithful snow customer. <br><br>
- - - - - BEOIR<br>
FIANSAL<br>
The club owner & bouncer. <br>
Sura recognizes talent when she sees it, even when it isn't in Sneachtan hands. She'd have hired him as added muscle on especially sensitive deliveries. Their relationship is one of distant respect.
</div><br><br></div><br><div style="width: 400; line-height: 95%; font-family: courier new; color: E6E6E6; letter-spacing: 0.77; font-size: 8; text-align: center;">TEMPLATE BY DAN IS AN ELDER @ CAUTION 2.0</div><br></div><br><br>< [/dohtml]