Title: Vicats Can Also Draw
Appologies - July 6, 2011 07:12 PM (GMT)
Yessssssssssss After redrawing it from the sketch TWICE because it got corrupted (TWICE) this thing is finally done. So it's a little wobbly, who cares? It's DONE.
dA won't let me upload it, though. All for the better, I'll load it on Friday and then use the dA post to advertise her in the bc.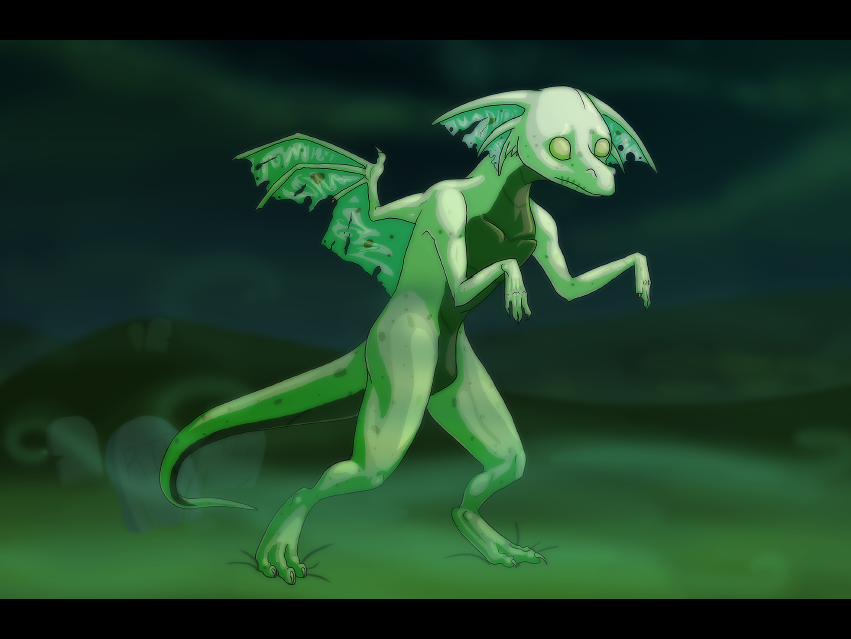 And I'm trying to get in the AG with this. And if that happens, I'll enter Solzar into the BC and hopefully get him a trophy so some one will TRADE ME A DANGED KRAWK.
Yeah that's it for now.
rawrimmakitty - July 6, 2011 08:28 PM (GMT)
Eeee, Vicats, your animation is so cute!
This is the one you lost though? I know if you have the cache somewhere on IE, you can recover it just by saving it and opening it in ImageReady. It'll show up with all of the frames saved.

The draik image is super cool, too! Looks like he's standing on plush grass, though. x3

Good luck getting into the AG/saving for a krawk!
Appologies - July 6, 2011 08:44 PM (GMT)
I only had the lineart in IE... my computer couldn't handle moving it into Imageready and then onto IE when I started colouring. To make it actually animated I had to copy each individual frame, shrink it to this size, put them together in Photoshop and then transfer to image ready. And I figured out the taking from cache thing the second time round, but I had finished colouring it at that point so it was still a pretty major setback. XD

And drat, I thought I had gotten rid of those lines. I guess not.

I'm really hoping to trade for one... Including my stocks, I have enough to paint Dilumas shadow, or even buy a royal PB for Solzar if I have to (I'd sell some stocks at a loss, but I would have enough!) But if I can trade just Solzar for a Krawk with a name that really works then I could paint Di with my points (without losing on some stocks) and use the FFQ on Loshai to make her Maraquan. I just... need it to work out. DX
rawrimmakitty - July 6, 2011 09:43 PM (GMT)
QUOTE (Appologies @ Jul 6 2011, 03:44 PM)
I only had the lineart in IE... my computer couldn't handle moving it into Imageready and then onto IE when I started colouring. To make it actually animated I had to copy each individual frame, shrink it to this size, put them together in Photoshop and then transfer to image ready. And I figured out the taking from cache thing the second time round, but I had finished colouring it at that point so it was still a pretty major setback. XD

And drat, I thought I had gotten rid of those lines. I guess not.

I'm really hoping to trade for one... Including my stocks, I have enough to paint Dilumas shadow, or even buy a royal PB for Solzar if I have to (I'd sell some stocks at a loss, but I would have enough!) But if I can trade just Solzar for a Krawk with a name that really works then I could paint Di with my points (without losing on some stocks) and use the FFQ on Loshai to make her Maraquan. I just... need it to work out. DX

Oh, alright then. x3

Hopefully you'll be able to find a krawk name that works for you. Seems like if you did, it'd work out much better for your other pets, as well. I just hope you find the right krawk soon! D:
Hilary - July 6, 2011 10:16 PM (GMT)
Love that draik image!

Also I have Huist (camo krawk) UFT if he interests you
Sealion - July 7, 2011 12:34 AM (GMT)
Your animation is cute >w<)/ Love the colours~
And awesome draik Vicats :3

Good luck >w<)/