Title: Scribble Requests
Description: P.U. Froggy
Everglow - March 17, 2010 10:07 PM (GMT)
It'd be nice to have some stuff to do while I'm recovering besides just playing Pokemon since staring at that tiny screen too long gives me a headache right now @_@; So scribble requests?
I'm way too out of it to really organize this at all right now, so just post a reference froot loops I might draw them I guess.
As always, you are welcome to scribble something back in return, but please wait until after I've already drawn something for you. That way you don't end up drawing something without receiving something in return. It's also not in any way necessary of course.
Majority of characters with references are found here
No slots right now @_@ Just drawing.
[edit] Do I need examples? Most of you know what my crappeh work looks like, right? @o@
[edit][edit]
*insert encouragement towards requesting pictures for other people here*
...
...
Because it's a nice thing to do of course.
Nissa - March 17, 2010 10:12 PM (GMT)
Froggy - March 17, 2010 10:30 PM (GMT)
Arisu - March 17, 2010 10:39 PM (GMT)
Ooo.. I want to play Pokemon, but SoulSilver is at home with my sister ;A;
May I request...? I don't know who to request so have a bunch of refs. XD
[Yuu]
(with Hika's
[Eterna]
? They get along like stereotypical cats and dogs, haha.) or
[Vy]
(they are brothers, btw xD)?
[Another Ref]
or Vy OuO
[right]
Or maybe
[Sarri]
and
[Hika's Zae]
? =o
If you draw just one of them (or just one of Hika's) that'd still be awesome too! *A*
Everglow - March 17, 2010 11:00 PM (GMT)
Sure-sure ouo Don't hesitate to request, guys :3 I haven't started yet because I'm really tired and drifting in and out of sleep, but I'll get to work next time I have a lapse of wake-ful-ness |D
Froggy - March 17, 2010 11:04 PM (GMT)
-piles blankets and pillows on-
Sleep is good for the healing and the resting and suchlike. c8
/inadvertently bumps board
Kned - March 17, 2010 11:05 PM (GMT)
Diane - March 17, 2010 11:11 PM (GMT)
Oh oh oh-- maybe Tree's
Aluhio-faery
? 83
Or
Miguel
, but he's my own character.
Bosco - March 17, 2010 11:43 PM (GMT)
Could I get one for Pallets my faerie gnorbu?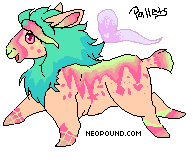 OR
Miniha my faerie hissi?
xyaxis - March 17, 2010 11:54 PM (GMT)
Heartless - March 18, 2010 02:15 AM (GMT)
Nix - March 18, 2010 10:39 PM (GMT)
Everglow - March 20, 2010 08:48 PM (GMT)
Sup guys 8U Sorry for the delay, my boyfriend has been using my tablet for school work, and will be continuing to use it for the weekend. I should have it back on Monday though.

In the meantime, wish me luck breeding a Larvitar with good IVs >8U -grinds in SoulSilver-
Oboe - March 20, 2010 09:05 PM (GMT)
I would love some Dragon arts, but you seem overloaded~

Everglow - April 1, 2010 08:49 AM (GMT)
Hai guys 8U Sorry for the hold up, I haven't abandoned the requests I swear ouo I seem to have eaten through meh artseh block at long last. I'll probably complete around 3-5 of these before I start trades instead ~(O.O~)
So to start with:
For Froggy~
(I also have a picture started of Flothys but its on my laptop which cannot be turned on at the moment XD)
Nissa - April 1, 2010 11:39 AM (GMT)
Haha I'll wait for your pic of Flothys as patiently as I can manage *__*
Froggy - April 2, 2010 12:05 AM (GMT)
OHMYGOD

OHMYGODOHMYGODOHMYGOD

...

EEEH <333333333333333

TH-THANK YOU SO MUCH 8'D HE LOOKS AMAZING