"...THE GREAT REVELATION HAS BEEN AN AWAKENING FOR US ALL.
EVERYONE SHOULD KEEP RECORD FOR THE HISTORY BOOKS, FOR
GENERATIONS TO COME, ABOUT THEMSELVES AND HOW THIS EVENT
HAS CHANGED THEIR LIVES..."

Akasha | female | How Can We Contact You?
___________________________________________

Akasha Blackcrow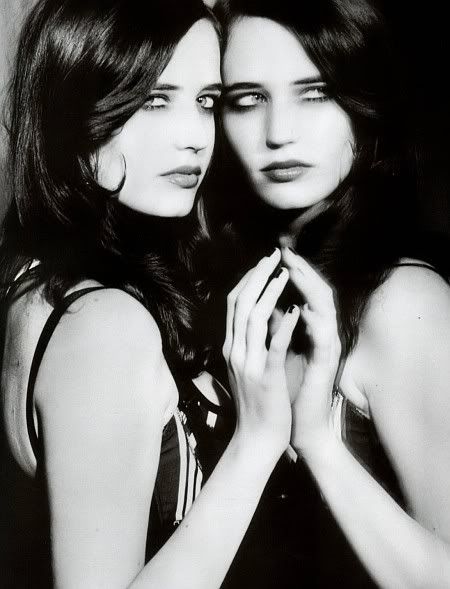 True blood | vampire| 800+(25) | pan-sexual | Played By:Eva Green
soundtrack to this stagnant life
MEANING LOST IN TRANSLATION


WHO? : Akasha or Queen Akasha, call her anything else and she'll rip your head off and drink you like a straw, (except Danika can call her Sha and get away with it)

WHAT? : Queen of California, The face of vampires of the west coast


this could be my great awakening
BUT HOW WOULD I KNOW?


PICTURE PERFECT : Akasha is a tall, slender, young woman. She has a beauty about her that is indescribable. When she walks in to a room, she's the one everyone stares at in awe or envy. Her hair is blacker than night and is usually straightened or in a 30's style. Her eyes are blue and cold,and can hypnotize anyone who dares to stare into them. She has smooth, milky white skin with some faint freckles. When she dresses up; it's slick, classy black dresses, or a 20's flapper dress, but always in black. When she dresses casual, it's just a nice black shirt and some black pants or jeans. Her only shoes are heels, and she never leaves the house without make-up on. She sees her self as a sexy, intelligent woman, which she is.

EYE COLOR : Icy blue
HEIGHT : 5'7
WEIGHT/BODY TYPE : about 140lbs., slender but curvy


it's all noise to me
ARE THESE WORDS FALLING ON DEAF EARS?


POWERS & LIMITATIONS: http://naturalinstinctsrpg.wikia.com/wiki/Ugenta [URL=link here] Ugenta Vampire [/URL]

MY SKILLS: -Akasha is a social butterfly
-she's a charmer
-she's an aristocrat

WEAKNESSES: -Danika
-She's hot headed
-her conscience (that she wishes she didn't have)

LIKES: - Danika
-smoking cigarettes
- sexy, blond, vampire hunks

DISLIKES : -werewolves
-people that don't respect her authority
-stupidity
GOALS : To win back Danika's love and respect.

SO, WHAT ARE YOU LIKE? : Akasha is bold and outgoing. Some may call her bitchy but she likes to call it truthful. She likes to smell the fear in her food's blood before she eats them, and would usually have no remorse for a taking of a human life. She can be considered cold and soulless but she does have a conscience. Her complex personality is like a puzzle that is impossible to solve. When she seems happy on the outside she could be sad and torn in the inside. She has severe mood swings and would sometimes fly off the handle for no real reason. Otherwise she is pretty mellow and calm.
It takes a while for her to trust anyone. She has commitment issues and prefers to be alone or in a small group when she is feeling down. When she is in a good mood she likes to go to big social events. She's a real aristocrat, and is very sophisticated. She can be extremely seductive when she needs to be and persuasive as well.


realize that they no longer care
ABOUT THE WRONG OR RIGHT


ANY FAMILY? : mother (dead)
father (dead)
3 brothers (all dead)
4 sisters (all dead)
daughter (dead)
maker-Marquis (alive but whereabouts unknown)
vampire brother-Demitirious (M.I.A.)
adopted prodigy-Danika Pierce (alive)
prodigy (alive)
WHAT'S HAPPENED TO YOU SO FAR?:
Akasha was born in medieval Germany in 1310. She was the 3rd girl and 5th child born. They were a present family and struggled to keep food on the table. Akasha's mother died when she was 4 years old and it got even harder for her family. At 17 her father sold her to the king as a maid to pay for taxes.
Akasha spent her days washing and cleaning the kings castle. A year went by, the man that was always in charge of making sure the wenches did there job was always a mean spirited man but one night he got particularly cold and snappy at Akasha. She went to bed that night to be rudely awakened by her "boss" raping her. There was nothing she could do, if she fought back she would of surely been hung. A month later she found out she was pregnant from a shaman at the market. 9 months later she gave birth to a little girl.
She kept her daughter a secret and hid her in the Knights bunker, where she befriended a handsome knight named Demitirious. 7 years after the birth of her little girl the plague broke out in Germany and her daughter got very sick and died a week later. Akasha never left her side and got the sickness as well. Demitirious, who was now a really good friend to Akasha, could not bear to see her die. He took her to his friend's house and told him to save her. She felt a bite on her neck and the next thing she knows she was digging herself out of the ground. Marquis was now her maker as she was now a vampire. Demitirious explained everything and that he was a vampire too. After that they roamed the planet and fed and stalked and slept in the day. Centuries went by like this till America was discovered and they each went their own way. Akasha settled in the West and became the Queen of California. One day Demitirious came to visit her and tell her of a trip he was going on and may not come back from, he told her he had a prodigy and that if something was to happen to him to take her under Akasha's wing. She agreed and that was the last she saw of him so far. Weeks later a baby vamp found her way to Akasha's door step and she knew it was Danika. As she promised she taught Danika the things that Demitirious had not yet trained the baby vamp. She started to see Danika like the daughter that she had lost so many years ago. Decades went by and the authority questioned the fact that such a strong and old queen had no prodigy of her own and just this adopted one. To not start a controversy she made a prodigy of her own, did a basic quick train and told him to make his own path and he will be called when needed. When she returned home Danika was gone.


the down wards spiral begins tonight
THIS COULD BE MY GREAT AWAKENING
___________________________________________
I also play: (list other characters) | I Found NI through: Google
| Random comments? |
----------------------------------------------------------------
This Application was made by Ninajassain of RPGD and Caution!
Lyrics are Great Awakening by Rise Against.