Title: Graphics Requests
Nick Temin - April 5, 2011 08:18 PM (GMT)
There are a few people on MC who have good image editing programs, but obviously not everybody does. If you want avatar or signature graphics for a character but aren't sure how to make them or just like somebody specific and the ones they make, go ahead and post here.

There's not going to be a limit on how many you're allowed to have or anything, but go easy on us! In that same vein, if you have quotes you want us to use or pictures of your chosen PB that you'd like us to use, please tell us (and in the case of pictures, please link them). Hunting down the precise images that'll make you happy can potentially take us longer than actually making your sig or avatar, so if you do it for us, that'll make it easier for us to keep up and to give you something you'll like.
Primrose - April 6, 2011 03:50 PM (GMT)
pin'd. this is a good idea.
Vector - April 7, 2011 01:33 PM (GMT)
My aesthetic sense isn't equal to the task of making this signature, thus it looks like crap.
http://photos.modelmayhem.com/photos/10120...0057bcdf373.jpg
is the original photo.
If someone could help, I'd be honored and indebted.
Boombox - April 14, 2011 06:27 PM (GMT)
Nick Temin - April 15, 2011 01:37 AM (GMT)
Okay. I think I have finally gotten enough done to solicit feedback.
I also offered a new avatar. That's actually far easier, and I really should have done it first as a result. Oh well!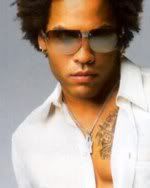 These are totally just a start, so if you want me to change something or use a different image I absolutely can. Just let me know.
Boombox - April 15, 2011 01:42 AM (GMT)
Hey little lady, ya did more than fine
I'll be puttin' these up soon as I got the time!
Luke O'Houlihan - April 21, 2011 12:28 AM (GMT)
Okay, this is less a REQUEST and more a ... well, it IS a request, but not the kind you think.

See that sig? See how it's just okay? Yeah, I know, it could be better, and I WANT to make it better.

Thing is, I can't seem to find the original.

I found the original on GIS, downloaded it to Photobucket, and chopped it to bits, saving over the original (because if you don't, the changes don't seem to take). Then, when I realized I wanted to change it, I went to look for the original... and I couldn't. It's like it vanished off the face of the Internet.

So, basically... if you can find this image (if you're wondering, yes, it's much larger and he's wearing a tux with the tie undone), I'd be eternally grateful.
Nick Temin - April 21, 2011 12:36 AM (GMT)
I would recommend cutting off the text and then doing a TinEye.com image search to find larger versions, if any. I don't know if it'll find images that are a different shape or whatever, but that's a good start.
Taryn Thoreau - April 21, 2011 01:20 AM (GMT)
Luke O'Houlihan - April 21, 2011 01:33 AM (GMT)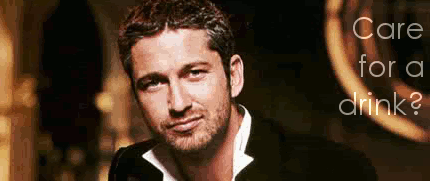 ... hmmmm... how's that?
Taryn Thoreau - April 21, 2011 02:02 AM (GMT)
Luke O'Houlihan - April 21, 2011 02:03 AM (GMT)
Taryn Thoreau - April 21, 2011 02:04 AM (GMT)
Too much dead space. And I don't care for the font or it's placement.

EDIT: I can just try one myself, if you want.
Nick Temin - April 21, 2011 02:06 AM (GMT)
You could duplicate that layer (you can do this by right-clicking it and then telling it to duplicate). The layer that's on top? Set it to overlay. Instant better contrast and saturation. It's like magic. Now you know my magic trick.

If you want the text to be visible no matter what the text layer is over (no matter what's in the background), you could color it to a sort of tawny beige color (I use this for EVERYTHING) and then set the layer's blending option to hard light or soft light. That's why the text in Nick's sig is clear even though the background is sort of mottled and busy.

Things to try! Even if you don't like them or don't care this time, you can look back here for stuff to try.
Luke O'Houlihan - April 21, 2011 04:04 AM (GMT)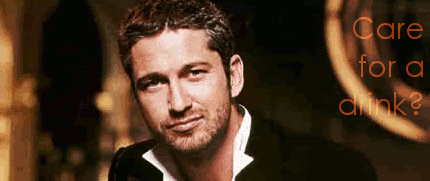 Hrm. Should I make that text bigger?
Nick Temin - April 21, 2011 04:16 AM (GMT)
No, but you should move it over into that black space if you're going to use whichever effect that is. I don't know whether that's hard light or soft light by looking. Whichever it is, try both of them over the shadow just to the right of his head (or his left, you know, stage left). If it doesn't fit in the shadow there as is, you could either try a different font or make it smaller.

The image quality is also sort of weird. Hm. What I did for Rick's avatar was to take an empty layer over everything and click the fill tool. It's the one that looks like a paint bucket, just like in MSPaint. Fill it with the same tawny brownish-yellow color that I told you to use for the text (because I use it for everything). Then I screw with the layer effects until that makes the colors richer and masks some of the weird problems in the different shades of black.

Now you know everything. Now I have no more secrets.
Luke O'Houlihan - April 21, 2011 04:51 AM (GMT)
... yeah, that's... um... huh. That's Hard Light on the font, and Overlay on the beige layer. Uh... yeah. Yeah.
Nick Temin - April 21, 2011 04:55 AM (GMT)
The text is a helluva lot easier to read now, that's for sure.

You don't seem satisfied yet, though so.... um, just duplicate the bottom background layer and just add random layer effects until something looks good. I have concerns about the pixelated bit on his blazer. I'm not sure what would make that look a little smoother.

Hm. Use the Curves function to screw with the shade and contrast on the bottom layer, and then dick around with random layers over that and their random layer effects. I know it sound super unhelpful to just say, "Duplicate layers and then do random shit to them and then put more layers on top or underneath until something looks good!" but that is seriously how I do it.
Taryn Thoreau - April 21, 2011 06:24 AM (GMT)
I'd try to trim it up to his left shoulder if I was you. It'd cut a lot...nothingness, but still leave the light on his left.
Boreas - May 3, 2011 01:16 PM (GMT)
Using one of the Tim Roth pictures on
http://www.fanpix.net/photo/gallery/tim-ro...e-gallery-9.htm
, could someone concoct The Ancient a signature image that includes the words "deficit plure quod nascitur"? And somehow make the word "plure" stand out. If you want to include the translation, it's "Most things that are born pass away", changed from "All things that are born pass away" (deficit omne quod nascitur) which is a quote by Quintilian.
Nick Temin - May 10, 2011 08:34 PM (GMT)
Good pictures I found for Tim Roth include:
http://www.nerdsociety.com/wp-content/uplo...roth-703471.jpg
http://27.media.tumblr.com/tumblr_l8n3a13M...dsfu6o1_500.jpg
This is neat for an avatar but almost certainly way too small for sig action:
http://images2.fanpop.com/image/photos/980...875-325-276.gif
I don't know what this could be used for, but I thought it looked badass.
http://image.qpicture.com/image/t/artist-t...roth-115102.jpg
This is relevant to nothing except that it makes me happy that there was no photography back when this foppery was in style, or else the Ancient would never live it down.
http://images.allmoviephoto.com/2001_The_M...sketeer_001.jpg
I'm going to dick around with that first one to see what I come up with. I'll edit it into this post if I get something together that's worth sharing.
Edit:
The Ancient - May 10, 2011 10:10 PM (GMT)
Looks awesome! Can I link to your Photobucket, or should I put it up on mine?
Ersatz - May 10, 2011 10:21 PM (GMT)
Feel free to just use mine. I don't care.