2/8/2010
Name: Stephanie Moira Grayson
Ship Applying For:
ILEV Constable
Age:
17
Appearance:
A petite young woman, compact and fit, with dark hair (somewhat raggedly) cut at about collar length and clear gray eyes. As a practical Rimworlder, tomboy, and intelligent young woman who has the sense to realize she cleans up nice and that it's probably best as few people as possible out in the 'Verse realize it, Steph is deliberately careless with her appearance; she usually dresses in mechanics' coveralls or scruffy work pants, plain button-down shirts and a much-abused grayish-brown wool jacket.
Image:
Meredith Salenger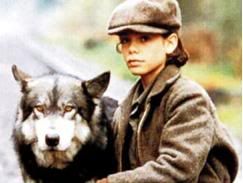 Attributes and Skills:
Steph is good with her hands, and better with a wrench or a plasma torch. She has an instinctive grasp of what makes machines tick, backed up by a childhood spent repairing vehicles, equipment, and support systems out of her mother's machine shop on St. Alban's. She's not what anyone would call a gunhand, but the biathalon is hugely popular pastime on her snowy homeworld; Steph wouldn't know what to do with an assault rifle or a grenade launcher, but she can knock a tin can off a fencepost at a hundred paces with an old-fashioned hunting rifle, while zipping past on skis. She's pretty good with animals (at least sled dogs) and can drive most land vehicles handily – mules, snowmobiles, mine crawlers, etc. Her education has been somewhat spotty, but she knows her tech manuals, her daddy's geology reference books, and her Bible verses backwards and forwards.
First Impression:
Steph generally tries not to draw too much attention to herself. She's quiet and watchful, generally speaking only when spoken to; she has a soft Rimworld drawl, and almost always refers to her elders as "sir" or "ma'am." About the only time she'll run on at the mouth is if someone asks her a technical question… in which case, it's hard to get her to shut up, and the tough-minded competence with which she presents herself makes her sound like an entirely different person.
Under the Surface:
Steph may not have an overabundance of highfalutin' education, but she is far from stupid. She watches, and she listens. Like so many St. Alban's natives, she is stubborn, loyal, and fiercely protective of them as she considers family. She has been raised a good Christian, and holds to the values of charity, compassion, and tolerance as best she can.
Deep Dark Self:
Steph is a good girl, raised in a loving and supportive home in a close-knit community; what little experience she has had with the throes of teen angst did not last long in the face of her practical nature. Her father died when she was small, her mother fought a long battle with cancer, and her brother died in the War; Steph had to grow up fast, and has. Intellectually, she knows it's a big bad 'Verse out there and that she is all alone and a long, dark way from home; she's determined, but she would be a fool not to be scared – and she is not a fool.
Public / Common History:
Stephanie Moira Grayson, born 2497, is the second child of Peter and Kelly Grayson, of the Arrow Falls settlement on St. Alban's. GED received 2514. No outstanding criminal record. Guardian of record listed as Shepherd Thomas Drummond.
Peter Matthew Grayson: deceased, 2503. Cause of death: mining accident.
Kelly Lauren Grayson: deceased, 2515. Cause of death: lung cancer.
Alfred Christopher Grayson, brother: deceased, 2510. Corporal, gunnery crew aboard Independent warship Avenger, lost with all hands at the Battle of Sturges.
Unknown History:
Left in the charge of Shepherd Drummond after her mother's death, Steph insisted on accompanying him when he returned to his abbey on Persephone. The kind, soft-spoken older man rarely spoke of his life before coming to the small mining community of Arrow Falls, but he had a smooth Core world accent and a very good education. Steph is rattled by his abrupt disappearance; Shepherd Drummond hadn't seemed worried by the summons to return to the abbey, had given no indication of anything out of the ordinary, but those Chinese fellows in the fancy coats were up to no good…
Secret History:
What happened to Shepherd Drummond, and why were the Tongs interested in him?
Strengths:
Bright, determined, loyal, and generous. A gifted mechanic, competent skier and survivalist, decent shot. Basic grounding in geology and Christian theology in addition to general education. [In RPG terms, high Intelligence, moderate Agility and Willpower.]
Weaknesses:
"Loyal and generous" are traits easily twisted by them as have the knack for it; Steph may think she's smart enough not to get played, but she is all but a babe in the woods. She barely remembers her father, but misses her brother and mother terribly; though her faith has helped pull her through their loss, the sudden disappearance of the last "family" she had has shaken her. Though she has had a hard-working blue-collar upbringing and is a long way from spoiled, she is a good church-going girl from a small town – there are a LOT of things about the 'Verse that shock the heck out of her.