Title: Pre-Heresy Terminator Heads
Description: For more 'knightly' faceplates
Weiss - January 21, 2008 12:57 PM (GMT)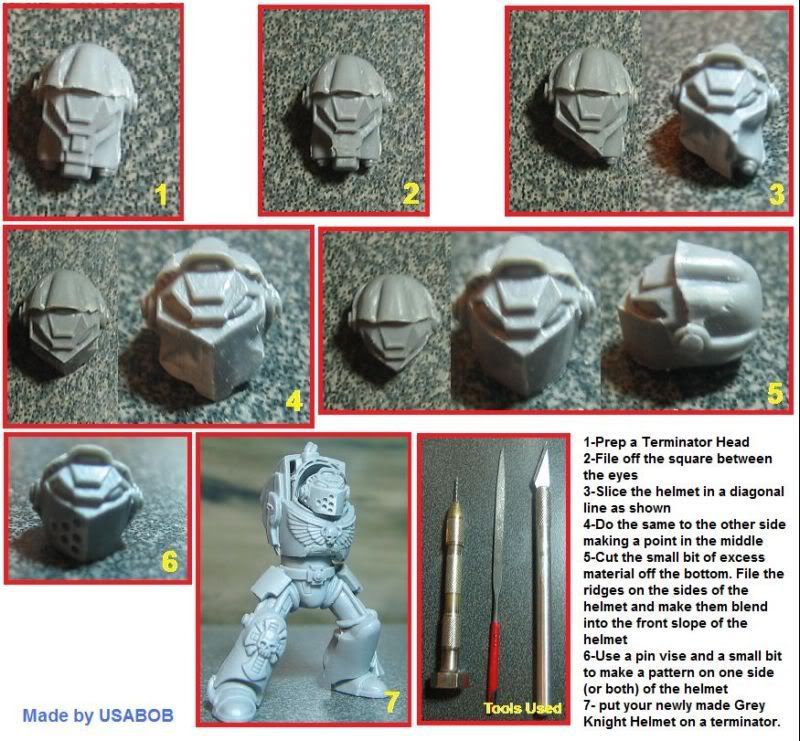 rohanboi - January 21, 2008 08:01 PM (GMT)
loooks good :)
might have to try it soon :)
Rogal Dorn - January 21, 2008 08:04 PM (GMT)
what size is that drill bit? whenever i make these mine are always to small
Vredesbyrd - January 22, 2008 12:41 AM (GMT)
QUOTE (Rogal Dorn @ Jan 21 2008, 08:04 PM)
what size is that drill bit? whenever i make these mine are always to small

I'd recommend trying a 0.25mm bit.

When I first saw the helmets I just thought, ah someone's used the plastic Black Templar helmets on them, then I saw ths tutorial, they just look brilliant, good for converting plastic Grey Knights...
Rogal Dorn - January 22, 2008 12:43 AM (GMT)
Weiss - January 22, 2008 10:27 AM (GMT)
You'll probably want to hack at the back of the head a bit so you can "sink" it in then build up a collar with plasticard (somehow) or green stuff.
Falkus Kibre - January 30, 2008 12:06 AM (GMT)
nice and simple i love it.
recceboy - April 3, 2008 02:51 AM (GMT)
So many ideas , so little time.
Vredesbyrd - April 3, 2008 04:36 PM (GMT)
Please don't post in threads that ended over two months ago unless you have somthing solid to add to them. Vredesbyrd.