Whew, sorting this lot is going to take a while, I will update this thread and the images as I get the chance.
First up, apologies for the picture quality, is a Space Marine Salamanders army.
This consists of a good solid core to an army, or a great detachment for allies.
Full command group, including the Sallie named Chaplain (can't remember his name though), two and a half Tac squads, Scout squad, Devastator and Assault squads and three Dreadnoughts. Also can be included, but not pictured, are two Rhinos and two Predators.
The paint is ok, some are finished to a tabletop quality, the rest are either base coated or undercoated. The tanks are assembled and one each of the Preds and Rhinos are undercoated.
I would prefer not to split this lot, shipping should cost about £10 via carrier inside the UK, overseas can be negotiated. I am looking for about £100 for this army without the tanks, £120 including, which I think is a very reasonable offer for what is included here.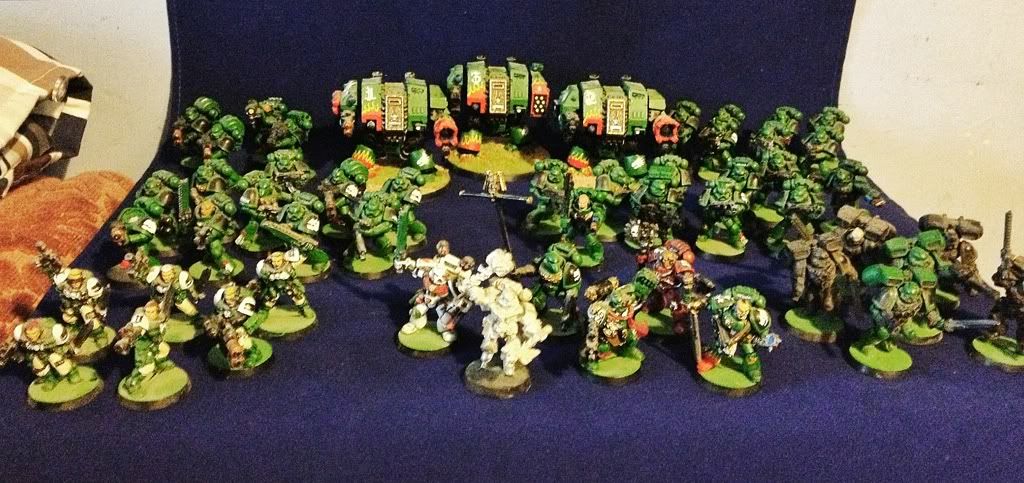 As for Epic, so far I have found a group of Marine tanks, 9 Preds, 3 Razors, 2 Land Raiders, 3 Vindicators, a few attack bikes and a Warlord Titan. I'm sure I have a whole load more somewhere, will keep looking. Message sent to Ilmarinen