Title: THE WEAKNESS OF OTHERS
Description: Kharn the Betrayer short...
ShroudFilm - March 28, 2012 08:49 AM (GMT)
Hey all -
Far be it from me to self-promote (!) my 1000-word Kharn the Betrayer short story, set just after the Heresy at Skalathrax, has just gone on sale as part of the 15th birthday celebrations for Black Library.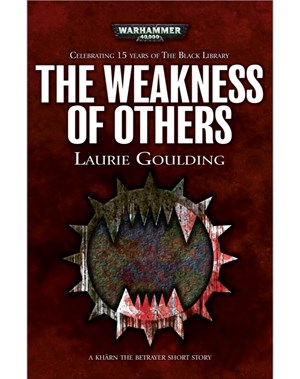 http://www.blacklibrary.com/all-products/t...hers-ebook.html
So yeah, it's canon. :lol:
Hope you eBook fans enjoy it!
Pacific - March 28, 2012 12:52 PM (GMT)
Excellent congrats Shroud, I believe this is only the second dedicated pre-heresy WE story (other than After D'shea, and Butcher's Nails hasn't been officially released yet?)

Will download a copy and write a review on my blog, great stuff!
ShroudFilm - March 28, 2012 01:39 PM (GMT)
It is indeed. It's not strictly pre-Heresy, but it recalls some pre-Angron times in the flashback.

Hope you like!
BigWill - March 28, 2012 03:04 PM (GMT)
Ah good to see,a proper cover for ya.
Glad to see you are not resting on your laurels.
Downloading shortly
Ilmarinen - March 28, 2012 06:37 PM (GMT)
Superb mate - fantastic story. :D

Like the comments on the BL Blog (for the Blog God ...really can't believe this one hasn't been used before!) I also think you've brilliantly fleshed out a previously one-dimensional character, in a believable way. Excellent work.

Oh, and I can't WAIT to read about Kharn at the Siege!!! :blink:
BigWill - March 28, 2012 09:03 PM (GMT)
Loved It

If ADB did'nt already snatch them up,I would say you would of had a danm good shot at getting a chance at them.

Glad you kept the Kill Counter,that was my favorite bit from all the stories out about him

That is also a very Smexy cover,without the planet in the middle and I would say the is the War Hound badge,looks like a spiked pitbull to me
ShroudFilm - March 29, 2012 09:31 AM (GMT)
Cheers guys! Glad you liked it. You should definitely check out Anthony Reynolds's 'Chosen of Khorne' in October... hint hint. ;)

I can tell you, I know what the War Hounds symbol is, now. :ph43r:

This particular cover image is just the World Eaters symbol, designed by Rachel Docherty at BL (XrayeX on here!) and I take great pleasure from the fact that my book is the only one in the series to have blood splattered on it! :lol:
BigWill - March 29, 2012 10:56 AM (GMT)
Tell Rae her symbol is full of win and getting stolen like my Tax Dollars :D
Tarik Torgaddon - April 1, 2012 12:09 PM (GMT)
QUOTE (ShroudFilm @ Mar 29 2012, 10:31 AM)
I can tell you, I know what the War Hounds symbol is, now. :ph43r:



Colour me green with envy :)

And also congrats on the release Shroud, I'll definitively give it a read. (now to go borrow my mate's kindle)
Markus Krell - April 2, 2012 05:22 PM (GMT)
Just finished it.
Really enjoyable, but I need more!!! Your short story was too short! ;)