[mark: 0.22.15]
Word Bearers turn 2
Word Bearers scores 6 VPs (3 from each objective on his side). The Enlightened holds his neverborn within. Land Raider on the left disgorges Gal Vorbak and attempts to engage squad III, but are out of range.
Hol Kharon and his squad advance up to tunnel complex. The Word Bearers on the Aquila advance. The Enlightened's Gal Vorbak exit land raider and engage squad IA in manufactorum.
One Gal Vorbak killed by defensive plasma fire. The Gal Vorbak kill one Marine and nearly kill the Sergeant, but he parries. One possessed marine is broken into pieces by boltpistol fire. Squad IA wiped out, as the sergeant fails his parry save. The Enlightened's Gal Vorbak consolidate onto company banner objective.
The Land Raider supporting Hol Kharon fired at predator but it made its cover save. Hol Kharon's squad failed to cause any damage to tactical squad 3. Word bearers squad shoots at squad 2A. Two die and the captain's Iron Halo saved a directed plasma shot. The Gal Vorbak at the manufactorum shoot at the vanguard but cause no casualties.
Ultramarines turn 2
Ultramarines scores 3VPs from the objective on his side of tunnel complex. Land Raider Prometheus moved up towards squad on Aquila. Tactical 2A and captain move up behind Land Raider. Vanguard engage Gal Vorbak.
[IMG]http://i165.photobucket.com/albums/u72/Bob_Hunk/Battle%20Reports/Calth
%20Jan%202012/Calth030.jpg[/IMG]
Possessed successfully counter-attack. The Enlightened kills two Vanguard. No other casualties. Vanguard uses combat tactics to fall back to Predator. Possessed consolidate towards techmarine and predator.
Squad III fires point blank at Gal Vorbak by tunnel complex, two die.
Squad 1B shoot at Gal Vorbak , 3 die. Predators shoots them and fails to kill.
Techmarine fries one with flamer. Land Raider promethius shoots squad on aquilla but causes no casualties.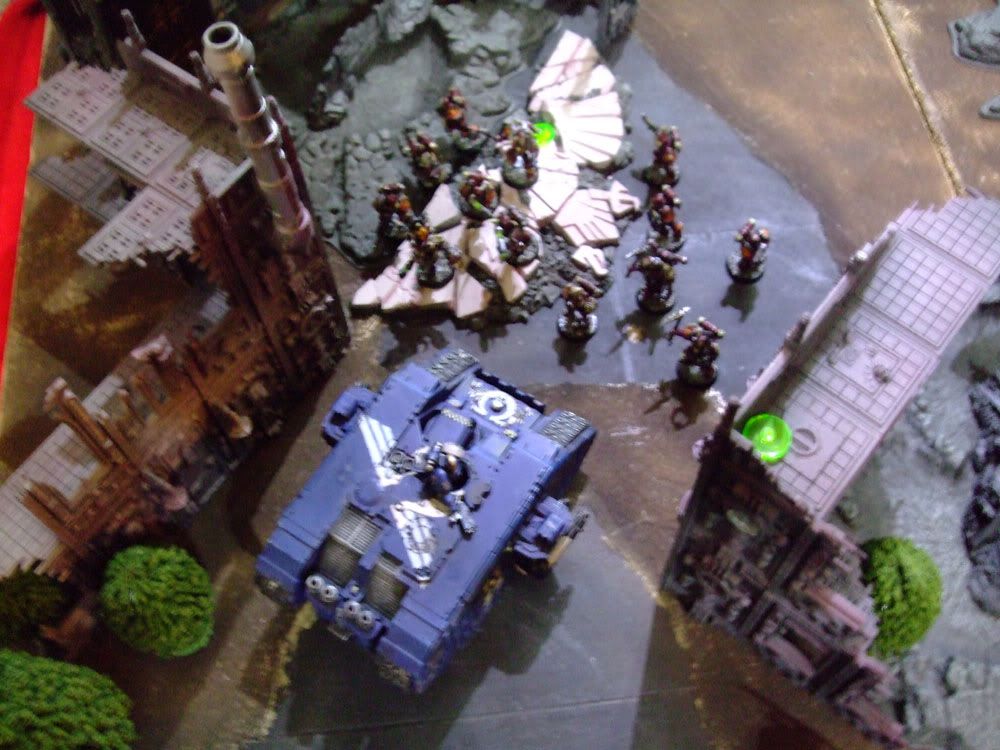 [mark: 0.26.43]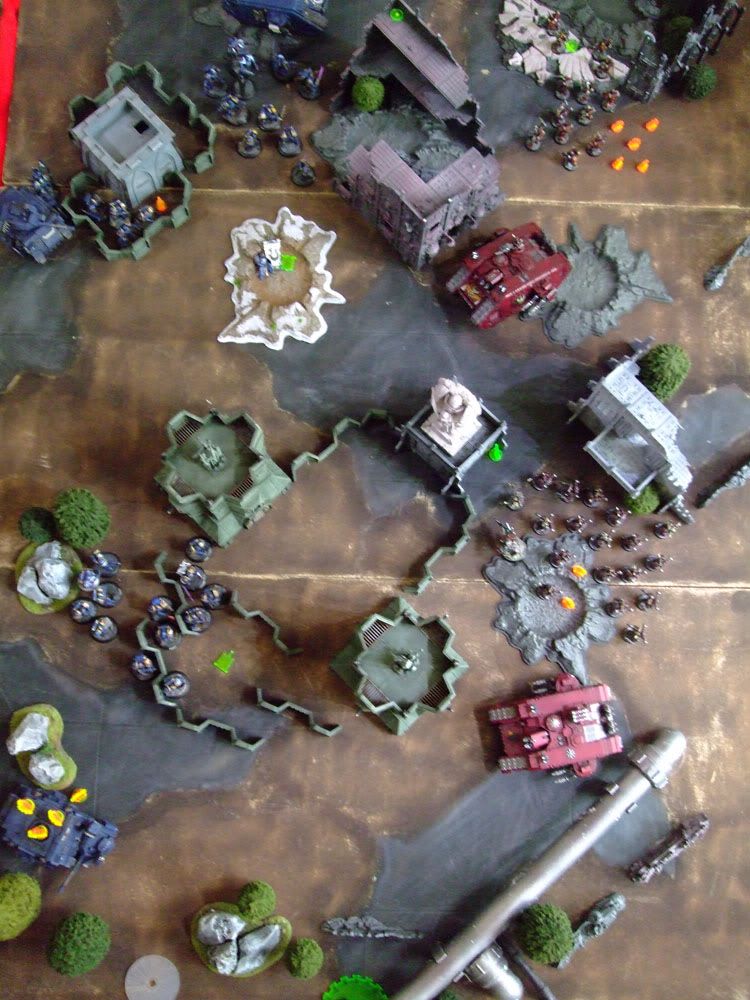 Word Bearers turn 3
Word Bearers scores 8 (14 in total). The Enlightened arrives...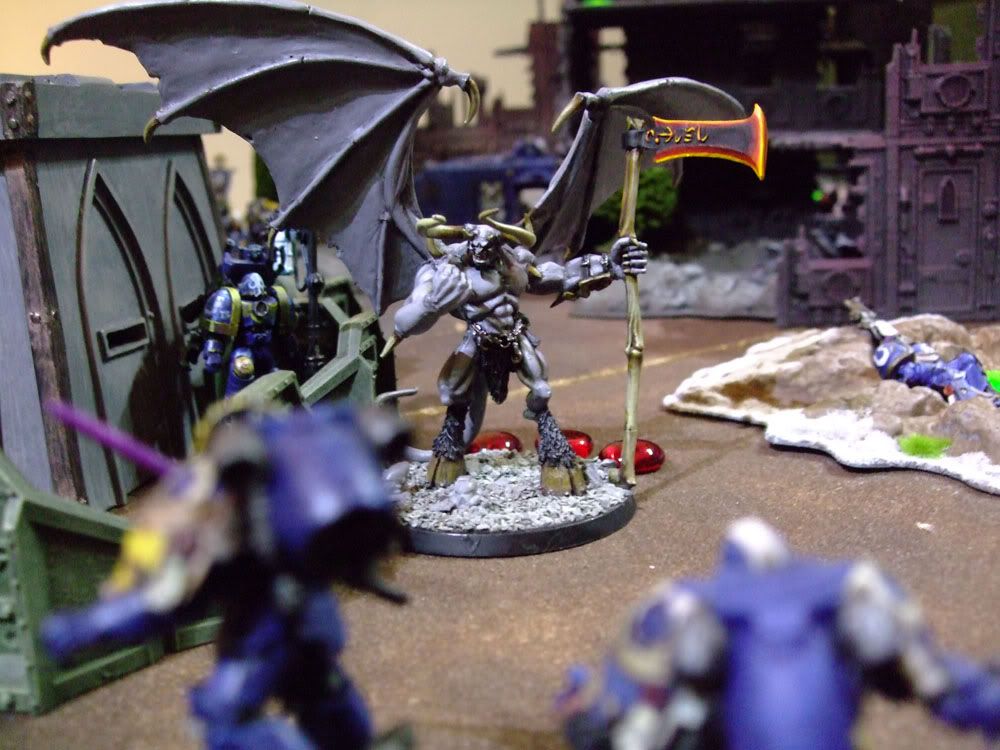 Hol Kharon leaves squad and advance though tunnel complex. His former squad also advances. Squad advances off Aquila towards Land Raider Prometheus. The Gal Vorbak on the right flank engage squad 3, Dark Chaplain dies to defensive fire – but a strategy point saves him (re-roll failed save).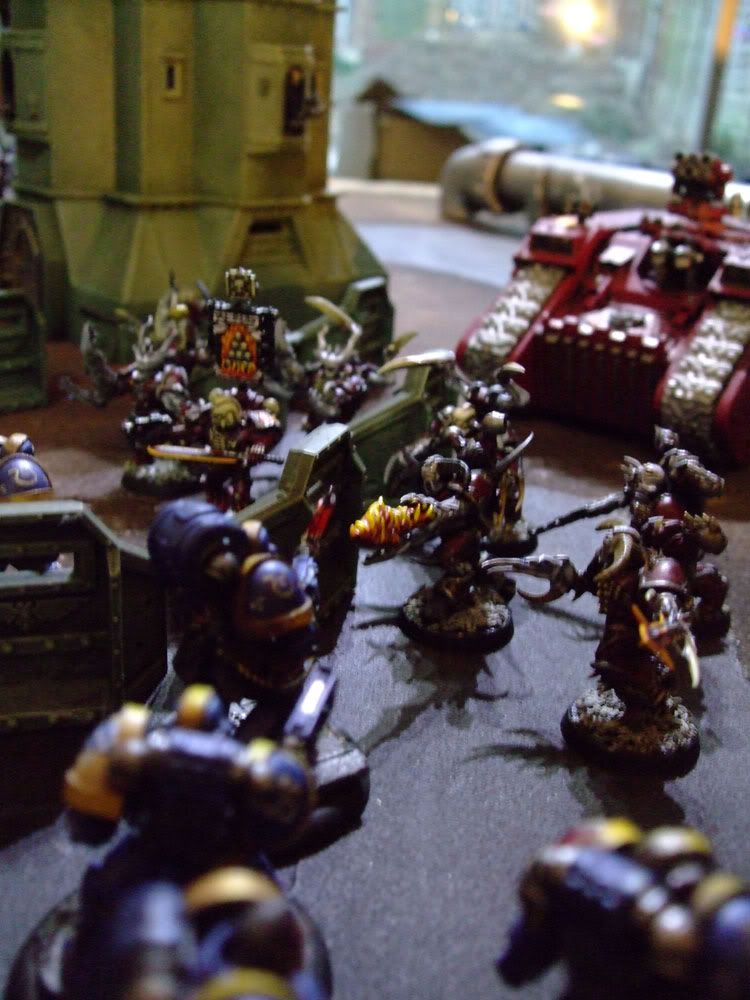 The Enlightened's Gal Vorbak engage techmarine and vanguard. Defensive fire strips a wound from special character Gal Vorbak .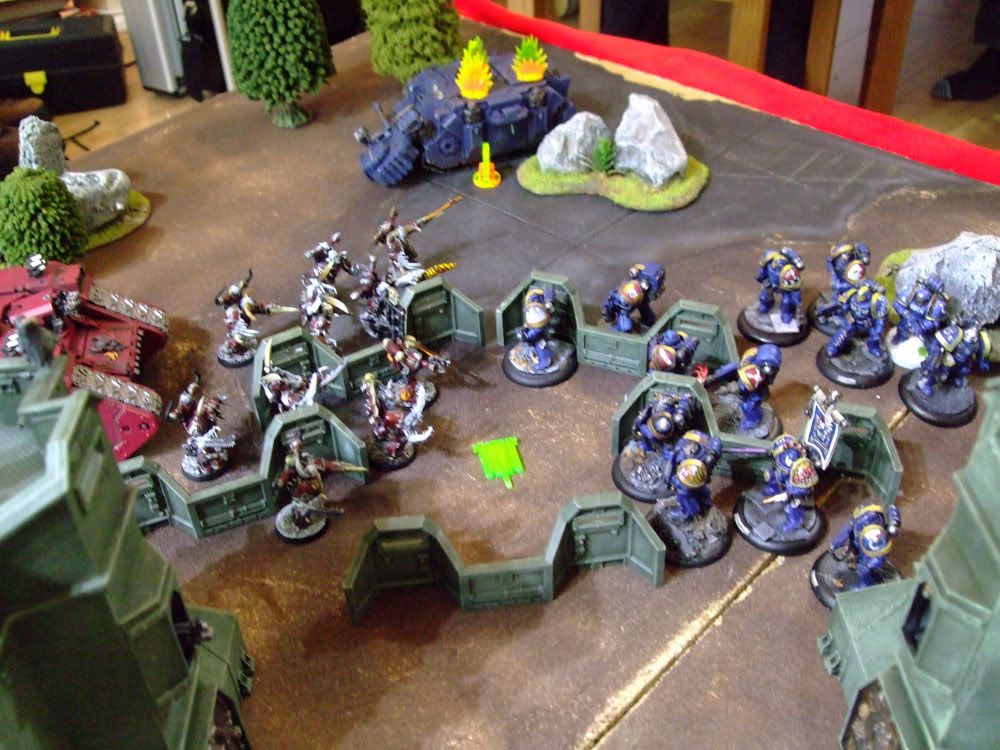 Possessed by tunnel complex wipe out squad and consolidate into next one.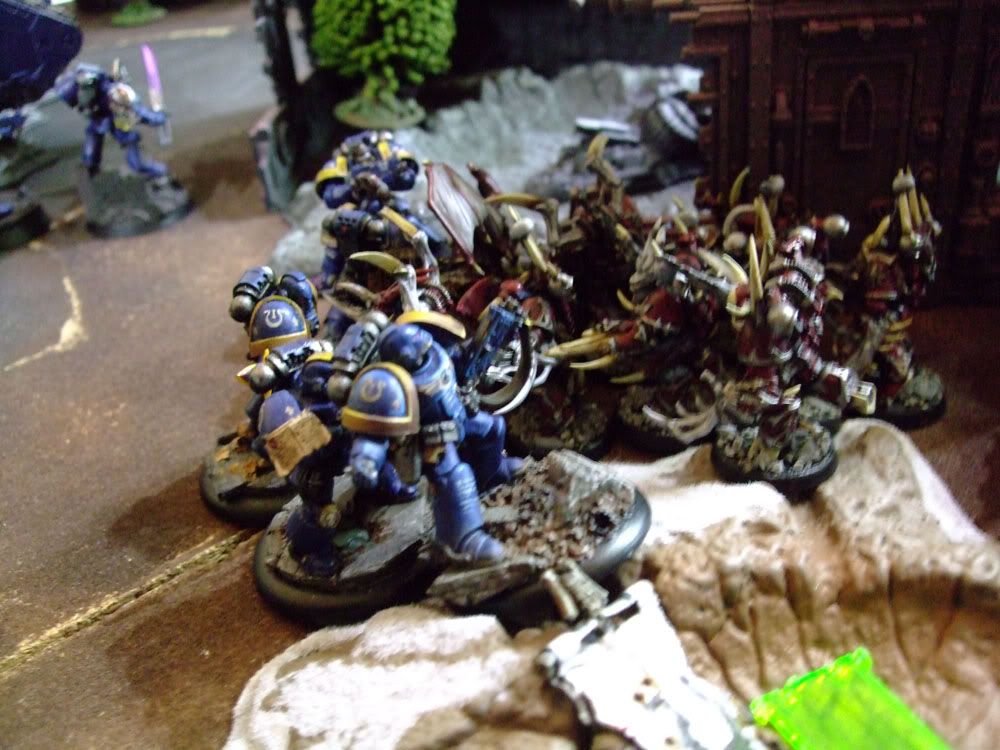 Vanguard wipe out Gal Vorbak and consolidate away. Possessed special character kills two of squad 1B, who try to fall back with combat tactics but remain locked. Two die from 'no retreat', wiping them out.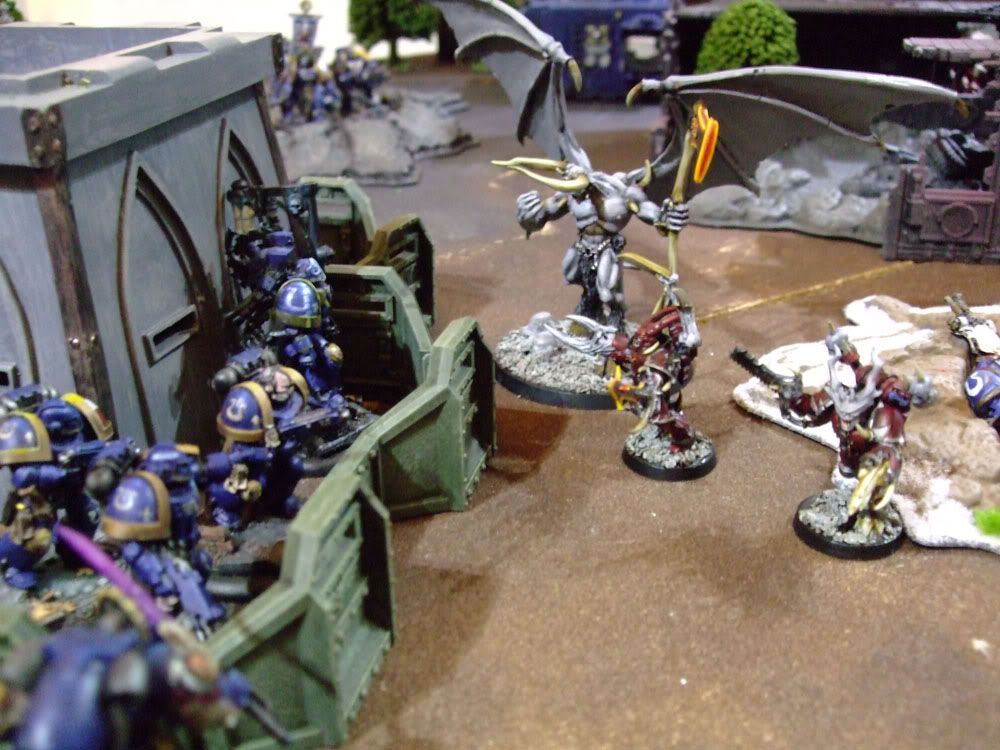 Non special Land Raider shoots and shakes predator. The Enlightened's Land Raider shoots at Prometheus and fails to damage. One casualty on squad 2A from the big unit on the Aquila.
Ultramarines turn 3.
Ultramarines claims 1 point from manufactorum (4 VP total so far). Predator reverses to target squad on Aquila. Vanguard engage the Gal Vorbak and the Enlightened, while the techmarine holds back.
The Enlightened kills both vanguard before they can attack, vanguard sarge fails to parry. The Techmarine wounds the Enlightened but he saves. The Techmarine dies to 'No Retreat'.
The Gal Vorbak on the right continue their fight against the squad they consolidated into last turn, next to tunnel complex. They wipe out the Ultramarines with no casualties.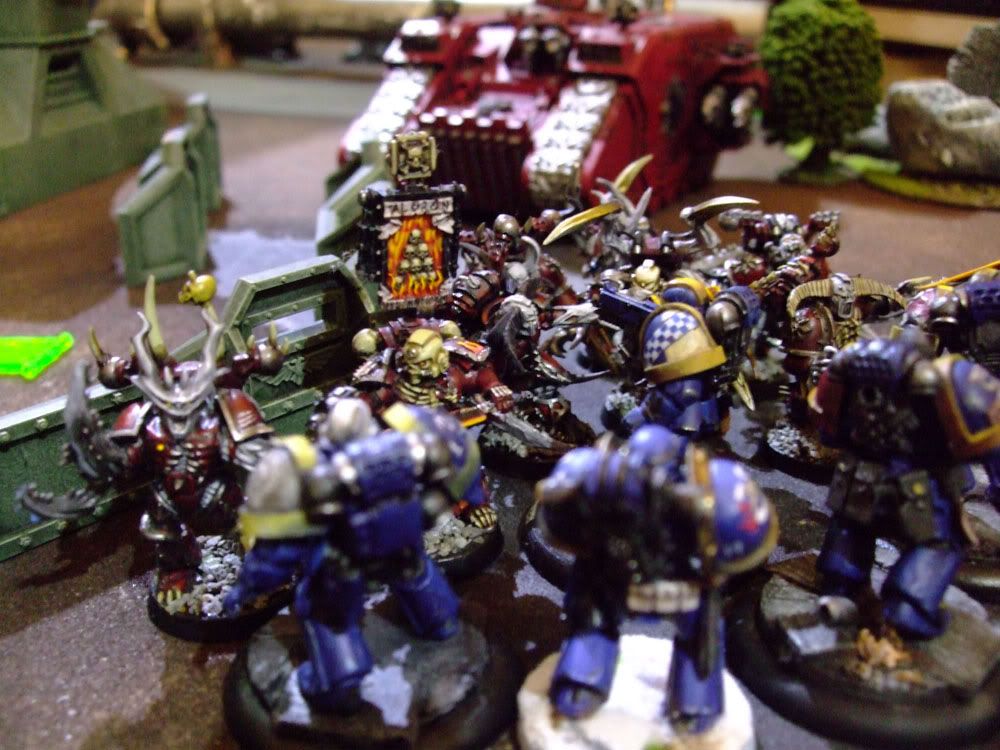 Predator shoots all weapons at special Gal Vorbak , but it takes the combi-bolter to finish it off. Land Raider Prometheus shoots at squad on Aquila, two die.