Title: Son of Horus
Maratheus - June 4, 2011 07:50 PM (GMT)
Like I may have mentioned earlier, in the mean time when I am not modelling or painting, I'm honing my drawing skills in hopes of building a career over it some day. Here's a fan art piece I hope you will enjoy. :)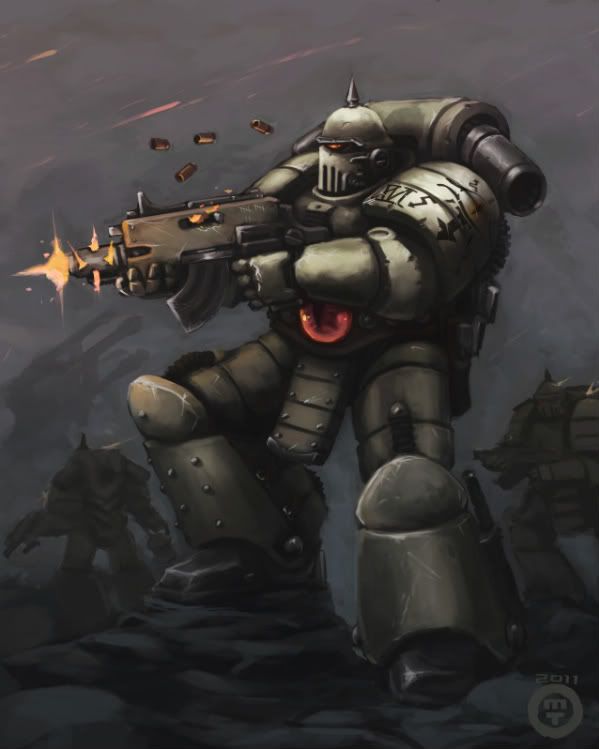 C&C most welcome.
Vredesbyrd - June 4, 2011 08:18 PM (GMT)
Terve!

Having seen some of your older artwork I can really see how much you've developed artistically in the time I've known you, and I've got to say that I really love this piece of work. Something in your style really appeals to me, you nicely capture the whole GRIMDARK aspect of 40k, whilst retaining your own certain flair too.
Brother Handro - June 4, 2011 08:21 PM (GMT)
This is awesome work Mara!

I really like the style, pose and proportions are good too!

Hope to see some more soon!
Magos Explorator - June 5, 2011 03:00 AM (GMT)
Good work, would fit well in Collected Visions.
Maratheus - June 6, 2011 10:32 AM (GMT)
Thanks fellas, much appreciated!
Vredesbyrd: Good to hear I'm getting better. :)
Brother Handro: There will be more I bet, you never know.
Magos Explorator: A high compliment, but I doubt I could make it in the big boys league yet. :P


Lunasteve - June 8, 2011 01:26 AM (GMT)
my god mate that is awesome! its as good if not better than alot of stuff in collected visions. so what you working on next? any clues or previews? ;) looking foward to seeing more, some people have too many talents i think ;)

steve
Pacific - June 8, 2011 02:33 AM (GMT)
That's an awesome piece of work, nice one! Looks like you have got the proportions and posing spot on, and I love the shading effects you have made with the colour on the armour.

Great stuff! :)
Apologist - June 8, 2011 08:47 AM (GMT)
Great work! The structure and proportions look convincingly large and threatening, and the lighting looks good too. About the only constructive suggestion I might make would be to have the lightest part of the figure against the darkest part of the backdrop (and vice versa) for the greatest tonal contrast (basically, have a dawn/dusk sky, with a lighter horizon line gradating into a darker top). That's add some more drama to what is already a strong piece, and also throw the supporting figures in the background into silhouette.

Mind if I poach the pose for a model? :)
Maratheus - June 8, 2011 10:33 AM (GMT)
Thank you for your interest!
Lunasteve: I do have an older sketch of a Dark Angel I might have to work on if I have the time. I believe talent is only skill accumulated from training. ;)
Pacific: Thanks mate!
Apologist: That is a very sound idea I will have to consider in future stuff, never thought of it really! Seeing what you're cooking up currently, poach away, I'll be looking forward to it. :)
Leon Carter - June 22, 2011 12:14 PM (GMT)
As others have already stated, this is an awesome piece of work, easily Collected Visions grade.

If you truly wish to build a career on your skills, then all godspeed. Who knows where the next Clint Langley may come from... ;)


QUOTE
I believe talent is only skill accumulated from training.

Quote of the day, hands down.