Title: Collected visions sons of Horus confusion.
Description: That colour is all wrong....
MouldytheMoulder - April 25, 2010 11:07 AM (GMT)
As far as I understand, the Sons of Horus "official" colour scheme is a light green. However, in the collected visions book they seem to be wearing Dark Grey armour. I know the Luna wolves colourscheme was a grey, but the pictures are explicitly labeled as Sons of Horus-so whats going on? :huh:
Magos Explorator - April 25, 2010 12:16 PM (GMT)
Welcome to the forum. The short answer is, I think, we've not yet got a satisfactory answer.

I have a couple of ideas. We know that some elements of the Sons of Horus wore black--the Catulan Reavers and Justaerin. Perhaps as the Heresy wore on the darker shades were adopted more? I will mention that there is at least one picture of Sons of Horus in the 'metallic sea green' shade in the artbooks (although the majority seem a dark grey).
Vissah - April 25, 2010 05:07 PM (GMT)
The First Compagny wears black armour and the rest of the Legion wears green.
MouldytheMoulder - April 28, 2010 05:43 PM (GMT)
Thank you for the warm welcome Magos :) .

And thank you for the quick replies. When you say the First company wore Grey armour, I expect that Horus also wore black or at least grey armour?

~Mouldy.
Vissah - April 29, 2010 11:13 AM (GMT)
Horus starts wearing black when he gets his suit of Terminator armour from the Dark Mechanicum as a gift.
Before the black he wears the green of the Sons of Horus and before that he wears the white of the Luna Wolves
MouldytheMoulder - May 1, 2010 04:06 PM (GMT)
I see. Thank you for clearing that up.

~Mouldy.
Algrim Whitefang - August 7, 2010 07:27 AM (GMT)
Okay, for visual reference these are the closest pics I could find as far as the green armor goes. Hope this settles the debate!
Frontal Assault
Grogor Assault Squad

Outflank
Scrodha Immolation Squad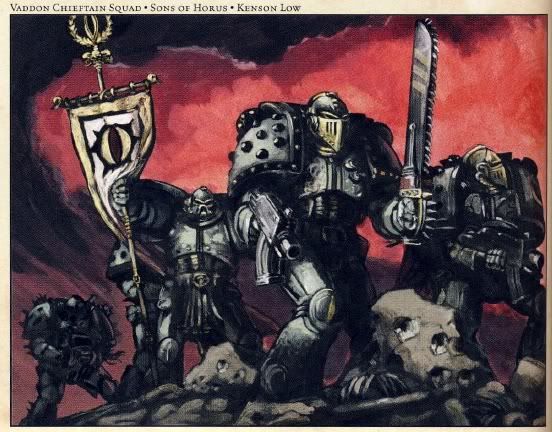 Vaddon Chieftan Squad