super heavies originally had 2 structure points.
Glaive
Original Marine version of the Baneblade, also called the Fellblade (Sons of Horus `KHATEK`) (or stormsword by the Death Guard `THE IMPERIAL REAPER`) but with twinlinked heavy bolters in spronsons instead of ark facing single heavy bolters, autocannon coaxil in turet and the hull turret las-cannon replaced with twinlinked heavy bolters. First seen in white dwarf #120 page 8.
Armed with a las-cannon coaxial to the turret battlecannon and a heavy bolter at the top hatch. a lascannon in the main hull turet and a battle cannon forward fixed in main hull. The side spronsons have a turret mounted las-cannon with a single heavy bolter pointing forward side and rear of each spronson allowing 2 to fire at any one target at a time.
Falchion
Original version of Shadowsword with a Marine crew. Also called a Mammoth Heavy tank by the Death Guard `MORDANT`. First seen in white dwarf #120 page 8. Armed with a defence laser forward fixed and a lascannon mounted either side in a turret ontop of a spronson.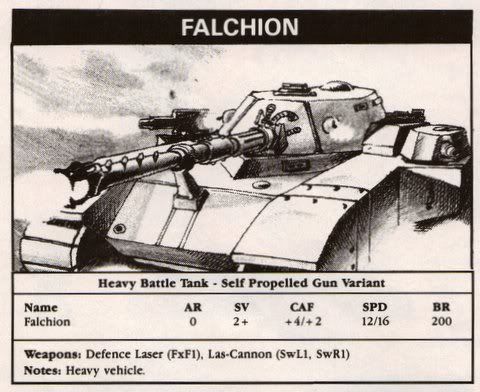 Hellbore
Marine super heavy tunneller. Armed with a twinlinked multilauncherin the prow, and 4 heavy bolters down each side. The Transporter is armed with a single bolter in a turret mount. Hellbore may carry 2 Rhinos, 40 marines, 4 light vehicles or 8 dreadnoughts or robots. First seen in white dwarf #120 page 8. It was later updated to have 4 multi-meltas and 4 heavy bolters down each side. aswell as 2 power fields. The transporter was upgraded with 2 heavy bolters swivel front and 2 swivel heavy bolter on each side. It is classed as a Praetorian.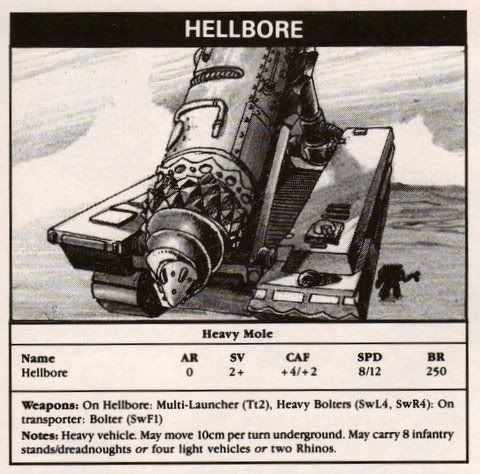 The Hellbore Praetorian is fielded when assaulting heavily fortified positions and emplacements, using its ability to bore out a tunnel to the best effect as trops are moved up to push the attack home. Unlike other tunnellers, the Hellbore burns its way through the ground with a bank of multimeltas, leaving a safe tunnel for infantry, walkers and bikes to follow it undergroundto the battlefront.
Because of the seismic disturbances caused by the Hellbore as it surfaces, it is possible for whole city sectors to crumble before a Hellbore assault - often the mere sight of these terrifyingly destructive machines moving into position is enough to bring a besieged city to its knees.
You should mark the point where the Hellbore starts tunnelling with a 5 inch across circle - this represents the hole that remains after the Hellbore begins to dig. when the Hellbore surfaces, a 5 inch vacume formed creater makes an excellent alternative starting marker.
When the Hellbore surfaces the ground in the area of its emergence becomes a slow whirlpool of semi-molten earth and rock. Its current position is determined and a 12 inch template at this point. A 12 inch creater would be best.
All infantry units under the template are automatically destroyed; all other units suffer 1D3 critical hits discounting any void or power shields. All surviving units are moved to the edge of the 12 inch template. (maybe 1D3 melta hits instead?)
Units within 12 inches to 18 inches of the template when the Hellbore surfacesmust make a saving throw to survive. Buildings within 18 inches of the centre of the template suffer D6 critical hits.
Once the Hellbore has surfaced, coolant jets are used to make the area safe to disembark troops the following turn.
The tunnel bored by the Hellbore may be entered by infantry, walkers and bikes. They enter it by starting the turn touching the entry point marker. Units may not enter the tunnel on the turn the Hellbore starts digging or exit the tunnel on the turn it suraces.
Units which enter the tunnel on the turn after the Hellbore started digging will exit two turns after it surfaces and so on.
If the Hellbore is destroyed after surfacing, the wreckage will block the tunnel exit and units still in the tunnel must turn back. A careful note should be kept of the units in the tunnel and the turn they will surface.
Thunderbolts
(I believe this to be the precursor to the Thunderhawk.) First seen in Codex Titanicus. Drop ships are huge vehicles, used to carry large bodies of troops and machines such as dreadnoughts into battle. There are various types in service, of which the most common is the Thunderbolt.
The Thunderbolt is protected by 2 powerfields and armed with a plasma cannon in a top turret and a multi-laser in a swivel mount on each side.
A drop ship can carry up to 40 infantry or the equivelent, as shown on the following table. The rules for disembarking are the same as for disenbarking infantry from armoured vehicles. Note that a detachment may not be split between two or more drop ships; the whole detachment must be together on the same vehicle.
2 dreadnaughts or robots = 5 infantry
2 light vehicles = 5 infantry
1 armoured vehicle = 10 infantry
Note that each unit is counted seperatley. Thus, 20 infantry and 2 Land Raiders is a full load, weather or not the infantry are embarked on the Land Raiders!
Power field banks
Drop ships are protected by a bank of power fields. A power field can absorb one hit and is then destroyed, in the same way as the power fields on an Ork Gargant. Drop ships have 2 power fields.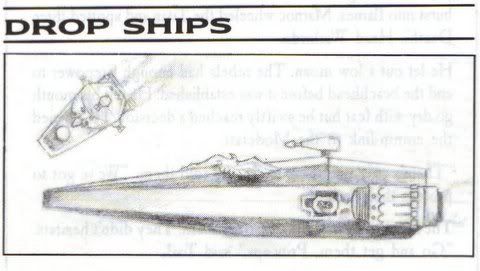 Imperial Transports
Imperial transports are huge tracked vehicles, used to carry large bodies of troops and machines such as Dreadnoughts into battle. There are various types in service, but most are almost as big as a Titan, and capable of carrying large forces.
One of the larger Imperial transports the Behemoth, is almost as heavily armed as a Battle Titan, and is protected by two banks of power fields. With its heavy armour and powerful weaponry, the Behemoth is able to move Marines to the front in relative safety, protecting them from barrages and long-ranged attacks as they chant their battle litanies in preparation.
Imperial transports sometimes have a battlefield role, deploying their forces and then taking up supporting positions where they act almost as semi-mobile fortifications. Most Imperial transports carry some defensive armament, and some variants can mount almost as much firepower as a Titan.
An Imperial transport can carry up to 40 infantry or the equivalent, as shown on the following table (same rules apply as Thunderbolts).
Transports are armed with a Defence laser on a top turret, 4 heavy bolters and 4 heavy plasma guns per side. It is also protected by 2 powerfields.
The Capitol Imperialis
Is the same as the above vehicle except it has 4 structure points and 4 void shields instead of power fields. It is used as a HQ for Space Marine and Imperial Guard units. It is classed as a Praetorian.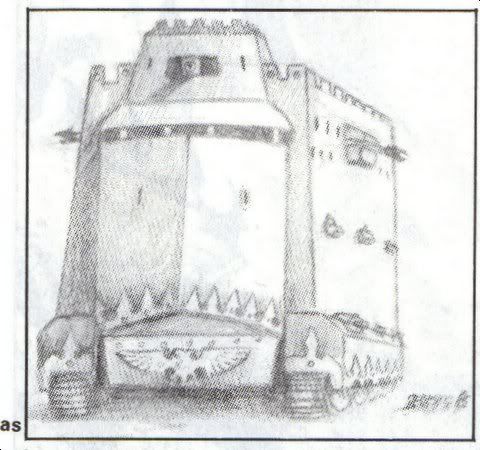 Praetorians
The Capitol Imperialis is a vast and complex Praetorian. Its construction and maintenance require many devoted hours of litany and prayer from the Techpriest of the Adeptus Mechanicus. The firepower mounted by the Capitol Imperialis is fully as devastating as that of a Titan although it is normally reserved for specialist functions.
The Imperium operates the Capitol Imperialis in a number of roles. Many are employed as Regimental and Chapter command vehicles. Others are used as mobile chapel-workshops for the Adeptus Mechanicus. Occasionally Capitol Imperialis accompany Siege Titans in the storming of fortified cities to act as assault transports. Rarest of all are the Capitol Deamonicus operated by the Ordo Malleus to combat full scale incursions of Chaos.
Praetorians only stop moving if they ram a building, Titan or another Praetorian. Otherwise they may continue moving as normal. Infantry and artillery units successfuly overrun by Paetorians do not recieve an armour save and are automatically remouved. Praetorians use the repair phase the same as a Titan does. Praetorians may be assaulted by infantry as if they were assaulting into a building. The Praetorian recieves the equivalent of 5 basic marines per structure point left. Any troops being transported may also join in the firght. If the attacker wins the combat it captures the Praetorian. A captured Praetorian may not move or fire for the remainder of the battle, even if recapture. Titans within close combat distance may be fired on inside or outside of void shield range at the owning players discretion.
all info taken from Codex Titanicus, White dwarf and the Sabertooth Games CCG.