Title: The Visual Codex Project
Description: Thread for Submissions/Discussion
Mithras - January 30, 2008 05:28 AM (GMT)
This is a dedicated thread for submissions of work and discussion thereof related to the Visual Codex Project.

-Mithras

Falkus Kibre - March 5, 2008 10:03 PM (GMT)
heres some of mine.
Fortronus - March 6, 2008 07:58 AM (GMT)
Falkus Kibre - March 6, 2008 05:12 PM (GMT)
Gagoc TheAncient - March 9, 2008 07:53 PM (GMT)
Here's my attempts at Alpha Legion Astartes.
Two Tac Squad marines and a Heavy Bolter operator.
BigWill - April 29, 2008 12:43 PM (GMT)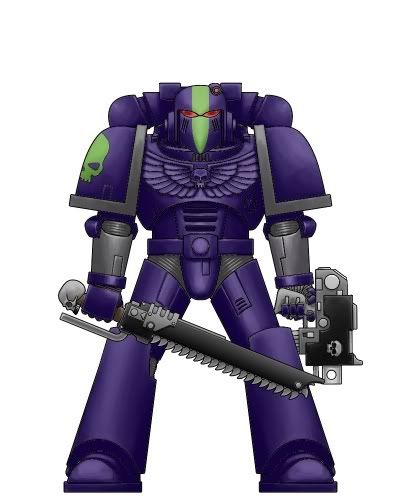 Iacton - May 11, 2008 01:43 PM (GMT)
This was a quick "loosener" before I knuckle down to a Primarch.
It's Br. Teapot the Mk5 RT model.
Basecoat of enchanted blue mixed with purple ink. Highlighted by adding white and a touch of liche purple. Then toned with thinned purple ink.
Didn't realise just how hard mauve was to nail without going too purple or too blue. The pics are still quite blue and the model looks more or less mauve in natural light or electric light - strange :huh:
The icons, as always, are freehand. Planned out in a mix of scaly green and basecoat then blocked in with snot green and lightened with scorpion green.
Weiss - May 12, 2008 08:21 AM (GMT)
He looks great man! Hmm, fancy another cup o' tea...
ShroudFilm - May 12, 2008 10:37 AM (GMT)
I'm a little teapot, short and stout
Here's my handle and here's my
BLAM!
Fortronus - May 16, 2008 08:01 PM (GMT)
Very Clean paint job. I like this one lot. And thanks for putting up a how to guide. I've tryed to paint a few AL 's marine myself and i could never get the color's to come out right. Great job !
Battle Brother Loken - November 25, 2008 01:27 AM (GMT)
what colors would you use for one of them
i am color blind so dont say "just look at the mini and it was a blueish or something like that"
it would be great to use the GW paint names to
or just shades and mixxes you used
Iacton - November 25, 2008 09:42 AM (GMT)
If you hadn't skim read the piece, you would see the recipe for the colours under the pictures :mellow:
Battle Brother Loken - November 25, 2008 02:56 PM (GMT)
oooppps
sorry all
thanks Iacton
Algrim Whitefang - September 3, 2010 06:53 PM (GMT)
Just wanted to make a small contribution to the Visual Codex. Enjoy!
RT Era Alpha Legion Shoulder Guards.
'Legion' Cover Art
Alpha Legion Rhino 'Honorius'
Fortronus Veteran Squad
Cyriarus Tactical Squad
Alpha Legion's Pre-Heresy Color Scheme
Decimius Tactical Squad
'Voluntary Sacrifice' from 'Horus Heresy: Collected Visions'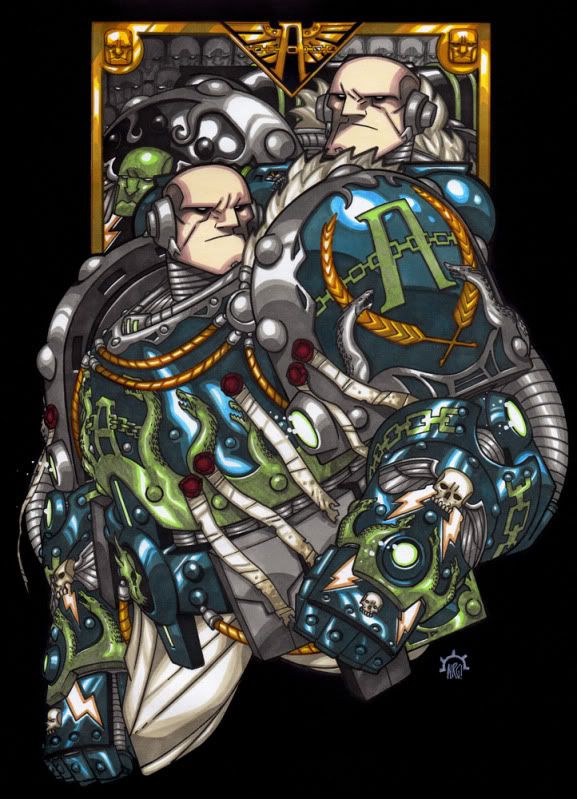 Primarchs Alpharius & Omegon by Aerion the Faithful
Apologist - October 12, 2010 05:12 PM (GMT)
Alpharius
Undercoated black; then a Hawk Turquoise basecoat was applied.
The armour was then washed with Leviathan Purple, before being highlighted with Hawk Turquoise and Rotting Flesh blends.
malika - October 17, 2010 01:14 PM (GMT)