Title: The Visual Codex Project
Description: Thread for Submissions/Discussion
Mithras - January 30, 2008 05:24 AM (GMT)
This is a dedicated thread for submissions of work and discussion thereof related to the Visual Codex Project.


-Mithras

Torg - July 17, 2008 09:50 AM (GMT)
Here is some info I found on the Salli's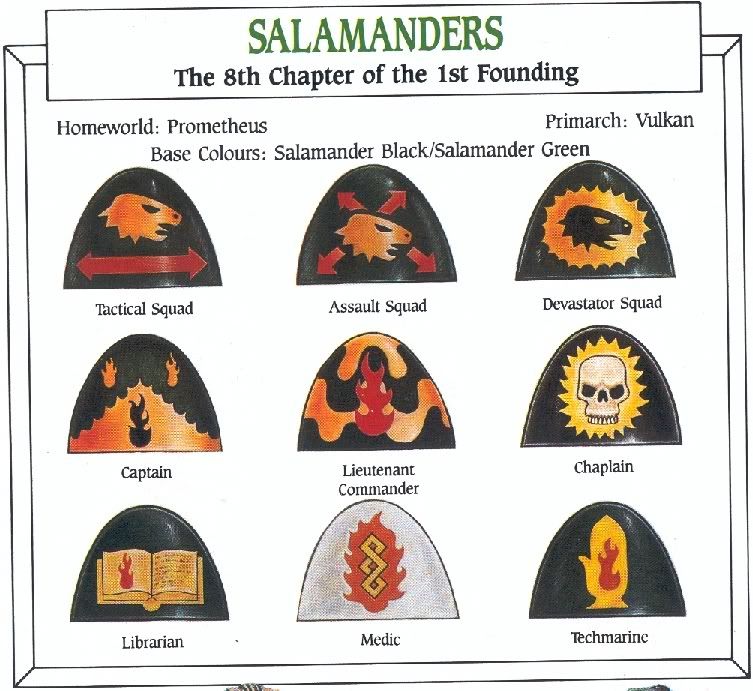 Magos Explorator - July 17, 2008 02:09 PM (GMT)
Where's this from? Adeptus Titanicus rulebook, or something?
Gagoc TheAncient - July 17, 2008 06:28 PM (GMT)
It's from an old White Dwarf, via my photobucket pages.
I'd posted them on the old forum.
I do think it a little cheeky of Torg to post copies of the pics from his pic site, rather than the original IMG links!
Gagoc's pics, Sallie badges
Torg - July 18, 2008 08:27 AM (GMT)
I actually found them in my computer,I saved them
from the old website,So sorry Gagoc I didn't know,
also they are not from the old White dwarf,They
are from the Golden Deamon Spacemarine painting
guide,back during the first edition!I would check your resources!
and I don't know your website Gagoc!
Gagoc TheAncient - July 18, 2008 06:35 PM (GMT)
Well Torg, considering I'm the one who scanned them in, I'd have to be pretty forgetful to make a mistake on their source.
I got it from White Dwarf #119 (P36, entitled Index Astartes). I know because as I'm typing this I have it on my lap! :ph43r:

Okay, so it seems to be a reprint of the Space Marine Painting Guide you mentioned, but I got it from WD and quoted it as the appropriate source.

I'd originally bought that issue for the Spartan article, and got the Index Astartes as a bonus! :D

(Cheeky Beggar!)
Torg - July 19, 2008 08:40 AM (GMT)
My mistake, :D You cheeky bugger bugger!
I didn't know, :huh: But it is nice to know!
specially for this topic,and since no one has
(Specially the Salli's! )(which is sad! :( )I tought it would be fair
to post them at least, ;) At least you gotta
admit it does fit,and it is on topic! :)
Whitehorn - January 19, 2009 01:15 AM (GMT)
One day I'll invest in a decent camera!
Started a Salamnder to colour test that odd green
Benedict Arnold - January 19, 2009 01:46 AM (GMT)
Any chance of getting that with a white background? :blink:
ShroudFilm - January 19, 2009 01:56 AM (GMT)
Looks more like orange! :D

I may be able to pull a better colour from that tomorrow, when I'm in the studio.
Whitehorn - January 19, 2009 02:07 AM (GMT)
Not sure why the light did that. Will take some more pics tomorrow, got a squad of 5 in the stages which I'll work on til 'Daddy' arrives to paint :)
This is Knarlock Green > Devlan Mud > Knarloc Green > Goblin Green. Didn't have much time to mix my paints, so went for raw colours for now.
Brother-Sergeant Ziegler - October 11, 2010 11:07 PM (GMT)
Here we go.
Sorkar Hunter Squad
Cortan Assault Squad
Harmokan Support Squad
Arkan Land Speeder
Chaplain Xavier
Mulgan Terminator Squad
Kharn - October 12, 2010 12:26 AM (GMT)
Never really understood why the Sallies have a "Loyal to the Emperor" picture. It's not like they had much of a choice did they? They weren't really cool enough for Horus and his cool kids gang
ShroudFilm - October 12, 2010 09:14 AM (GMT)
Sounds a bit like Christianity... :lol:

'The Church: basically, it's the bits of society that Satan doesn't want'
Algrim Whitefang - January 20, 2011 12:55 AM (GMT)
Here's some of my favorite pics. This first one is an oldie but goody:
Salamander Space Marine-RT Era
...and here is my favorite rendition of their Primarch. In my opinion this is the finest illustration of Vulkan that I have ever run across:
Vulkan, Primarch of the Salamanders by
Aerion The Faithful