Title: The Visual Codex Project
Description: Thread for Submissions/Discussion
Mithras - January 30, 2008 05:10 AM (GMT)
This is a dedicated thread for submissions of work and discussion thereof related to the Visual Codex Project.

-Mithras


p.s.

In order to beat him, let me just say,

"ROGAL DORN WANTS TO BE INVOLVED"...;)


Magos Explorator - July 3, 2008 09:02 AM (GMT)
First submission, nice. :) Here's my pre-Heresy Imperial Fists veteran sergeant, one of the old figures I really like. I'm more pleased with how this looks now than as a WIP, which I guess is a good thing.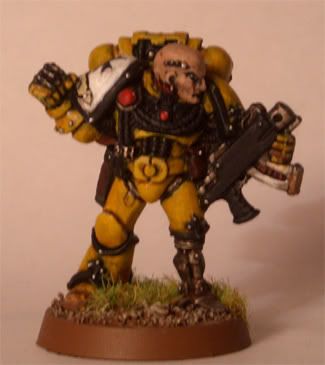 He's a member of Sigismund's company, which is why he's got the Templar cross on his right shoulder pad. Both that and the Fist are freehanded. I went for a minimal palette of black, white and yellow for contrast.
As for how the yellow is painted... the short answer is in a time-consuming fashion! Which makes the prospect of painting a battle company as I'd wanted to not so appealing. Since I have too many figures to paint already, we'll see how that turns out.
I started from black and then basecoated Iyanden Darksun. This was then overpainted with Sunburst Yellow, before giving a wash with Gryphonne Sepia. When dry, I highlighted with a mix of Sunburst Yellow and Dheneb Stone. This tones down the brightness of the yellow somewhat. Finally, I painted Yellow Ink over the top, and washed the recessed with a 1:1 mixture of Chesnut and Black ink that I keep in a pot.
The resulting base tone is similar to Iyanden Darksun, so I'm thinking of skipping the Sunburst Yellow in the future and just using Iyanden Darksun and Dheneb Stone for the basecoat and highlighting. The yellow ink adds a lot of yellow colour into the mix, so I don't think the end result will be much different, since Sunburst Yellow doesn't cover so well anyway.
Hope you enjoy!
Torg - July 3, 2008 11:00 AM (GMT)
I actually have that fig,I made him into Garro,
He's one of those figs that like the Master of the chapter
that people use for Eidolon, can be used for them
Cause they fit as them! ;) But it's your mini! :)
Lord_Mortirion - July 9, 2008 03:29 AM (GMT)
like it... i cant wait to see more!!!
Torg - July 9, 2008 04:31 AM (GMT)
Here is a pic of my Rogal Dorn I did awhile ago,
Hope you like him(specially you Dorn!) :D
Whitehorn - December 21, 2008 11:40 AM (GMT)
I did this guy for a Secret Santa. I didn't particularly aim for Pre-Heresy but the model used was already slightly converted to be a World Eater Gladiator (hence helmet and chain changes).
I grabbed a Pedro model to use for my Dusk Raiders (RH Fist!) and so stripped the left arm and pack to use on this model as they largely marked with 'Fists symbols.
Anyway, it works for any era, be it PH or modern veteran.
http://img523.imageshack.us/img523/7651/imperialfistaw2.jpg
Algrim Whitefang - August 18, 2010 03:53 AM (GMT)
My contribution to the Imperial Fists Visual Codex of various Horus Heresy era pics around the internet:
Predator 'Fergustan'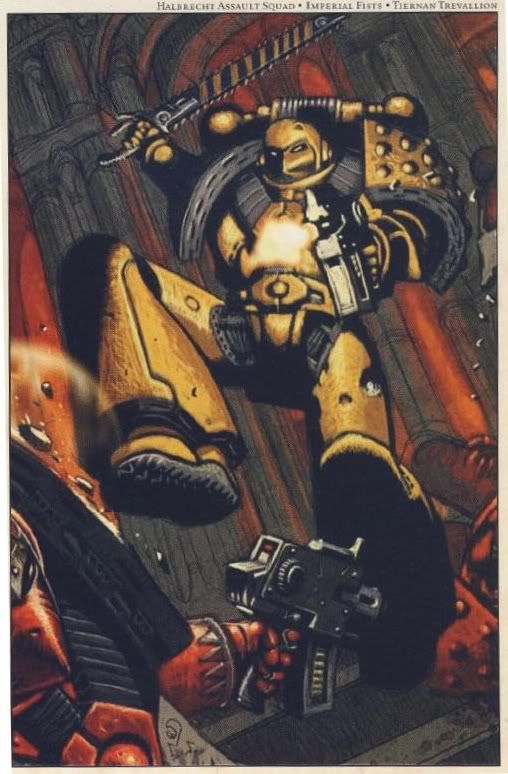 Halbrecht Assault Squad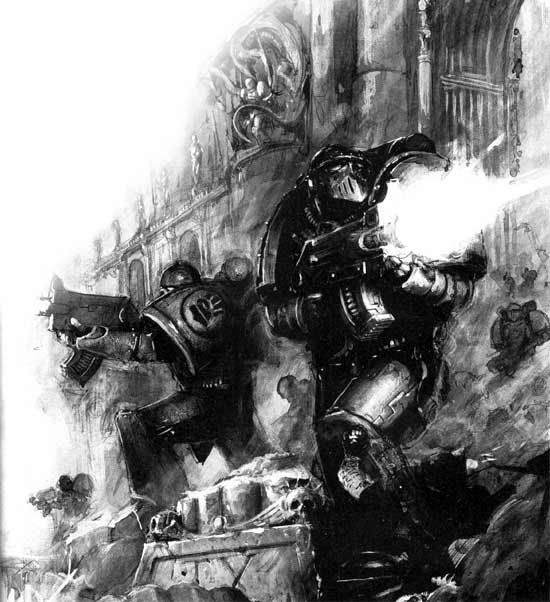 Defense of the Imperial Palace.
Defending the Palace by Aerion the Faithful.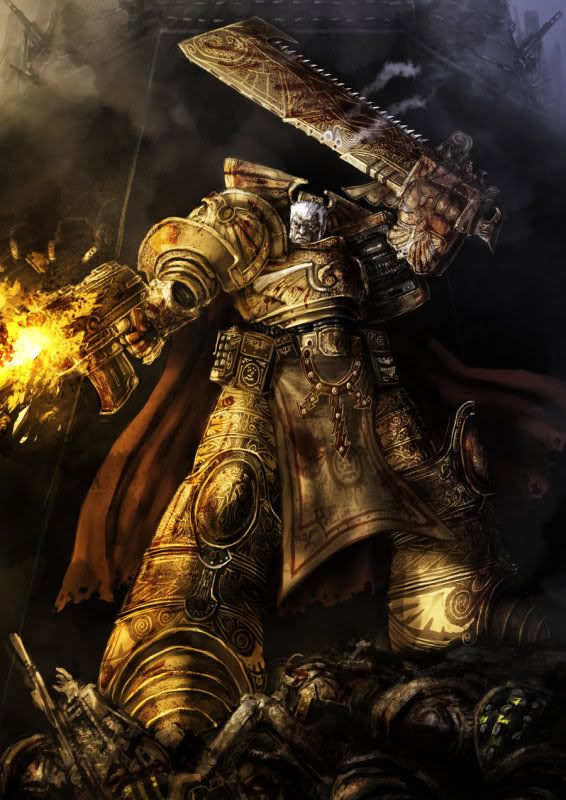 Primarch Dorn by slaine69.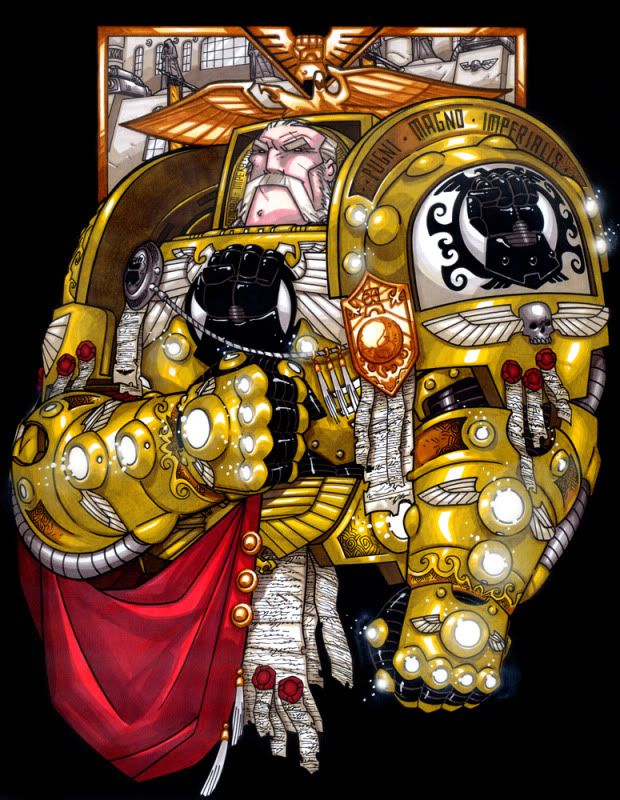 Illustration of Rogal Dorn by Aerion the Faithful.
malika - October 21, 2010 12:41 PM (GMT)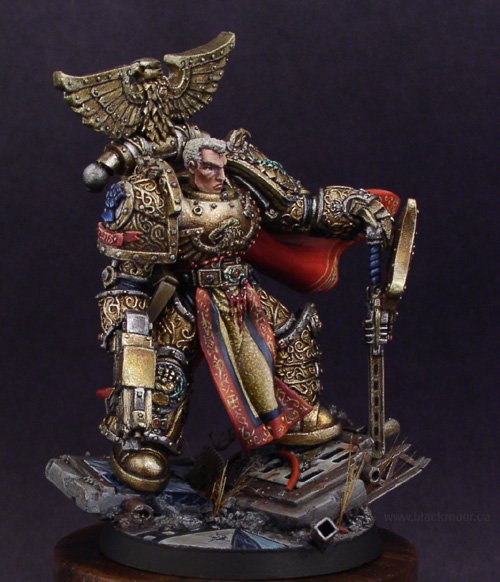 Algrim Whitefang - October 20, 2011 05:32 PM (GMT)
Here's a recent pic from the upcoming Horus Heresy novel, 'Primarchs'. A pic portraying some of the Primarchs at the Triumph of Ullanor:
From left-to-right: Jaghatai Khan (White Scars), Lorgar (Word Bearers), and Rogal Dorn (Imperial Fists).
goochman70 - June 3, 2012 11:23 PM (GMT)
goochman70 - June 3, 2012 11:28 PM (GMT)
Like this paint job.

Brother G
Pacific - July 7, 2012 04:05 PM (GMT)
Some pics I found of some Pre-Heresy Fists fighting Orcs. I have absolutely no idea who they are by, or what presentation they were done for, but they look stunning!
stormbird1 - July 10, 2012 02:16 AM (GMT)
pacific, these were done by templarcrusade01 on youtube.com, he is running a crusade campaign. His youtube videos have alot of different things, including battle reports. Look him up.