Title: World Eaters Felblade
Horn - July 15, 2008 06:57 PM (GMT)
I want to paint my WE Fel blade... but the colours for the two legion examples are.. grey: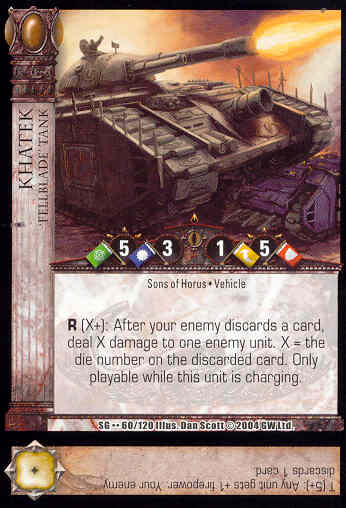 Is this canon or can I use white and blue?
VESPASIAN - July 15, 2008 07:14 PM (GMT)
Well both colour schemes are cannon, but only for the respective Legions that they belong to.

The Sons Of Horus Legion, in the Collectible Card Game artwork, is depicted as wearing grey armour. So this is the colour of the Fellblade from this Legion.

The Death Guard version is in the the same white that is part of the colourscheme of that particular Legion.

So I personally see no problem whatsoever in having a World Eaters Fellblade in the blue and white livery of the Legion.

This would be a logical and natural extension of the artwork you have provided as evidence; in which Fellblades are clearly painted in the livery of the Legions which they belong to.
Horn - July 15, 2008 07:16 PM (GMT)
You rock!

And sorry for spelling it with one L :)
VESPASIAN - July 15, 2008 07:23 PM (GMT)
Your welcome! Glad that I could help.

Hey don't worry about the spelling, its really not important. :)

Have just noticed that one of the tanks is a Fellblade, whilst the other is a Stormsword (well thats what the title of the cards say anyway-though the barrel on the Stormsword seems alot longer than the Warhammer 40,000 equivalent). Doesn't have any effect on my answer though.

I'll be really interested to see your tank when its finished. Hope that you'll keep us all busy with updates.
Horn - July 15, 2008 07:27 PM (GMT)
Painting it in sections - got the tracks built onto the flanks and undercoating those now.
Just snapped my knife and hunting for new blades to do the rest :P
My blog is here, will update today:
http://z15.invisionfree.com/The_Great_Crus...wtopic=105&st=0
Horn - July 17, 2008 09:41 AM (GMT)
OK boys and girls. Which bits do you think I should paint blue? :P
Horn - July 17, 2008 03:05 PM (GMT)
Good old Dan Scott..
http://www.danscottart.com/Images/Superheavy.jpg
VESPASIAN - July 23, 2008 04:43 PM (GMT)
QUOTE (Horn @ Jul 17 2008, 09:41 AM)
OK boys and girls. Which bits do you think I should paint blue? :P

I think that the way you have it in the photo would look quite good: so having all the plastic coloured parts painted blue would look cool.

So the central body of the tank, along with the turret and those little areas at the front of the tracks where the lights are; all in blue.

It would certainly look distinctive.