WIDBODE: LIFE THROUGH A VAMPIRE'S EYES


CHAPTER SEVENTY-ONE:
Two Scars
"Everything should heal properly if you keep putting the salves on." Arabella was saying behind her but Teyla hardly listened. She was fully occupied by staring at her pale and scarred face in the mirror that hung on the grimy walls.
She hadn't looked at herself in a mirror for weeks, thanks to the vampirism. She looked thin and worn out. Her red hair was a lot longer than it had been the last time she saw it. It now hung on her shoulders and down her back limply. She looked alarmingly pale, which made the wounds stand out even more. Her freckles had never been so obvious before either.
But that was not the worst.
Two scars where etched over her face. Two pale, glistening scars with Arabella and Cassandra's white salves smeared over them. One ran down her left cheek, the other -- the deepest scar -- stretched across her right cheek and nose. She sniffed and closed her eyes to hold back the tears that were burning behind her eyelids. Ever since she had turned back, all the shock and pain from the past few weeks had poured over her. She started to panic every time she thought of the dead body in the Shack, so she tried her best not to.
My face is never going to be the same again…
When she opened her eyes again, they fell on her scarred, salve-covered hands.
At least my face doesn't look quite as bad as that,
she thought, though it did not make her any happier.
A tear escaped her eyelids and rolled down her cheek, stinging her face. How could she live like this? How could anyone ever love her now? And what would happen to Widbode now that she wasn't one of
them
? She had failed her friends, her family, everyone… There was nobody to save them now. There was nobody to save
her
.
"Hey," said a deep voice behind her, making her jump.
Sage put a hand on her shoulder and she looked up into the mirror. He stared back at her with his smoky grey eyes. She could lose herself in those eyes if she tried hard enough…
"How are you?" he asked kindly.
She shrugged and looked down at her hands again. She couldn't bring herself to speak.
"Oh, Teyla…"
He moved up beside her and took her hand in his, where it lay sadly. It felt good though, she felt safe with him.
They stood there for a long time in silence, both of them deep in their own thoughts. Finally, Teyla turned around and met his gaze.
"I love you, Sage." She whispered, her voice shaking and a painful lump forming in her throat.
She swallowed. "Don't leave me. Ever."
"I wouldn't dream of it." He said and hugged her tightly. "I wouldn't dream of it, Teyla."
She snuggled up close to his warm body and closed her eyes. She wasn't alone.
She had Sage.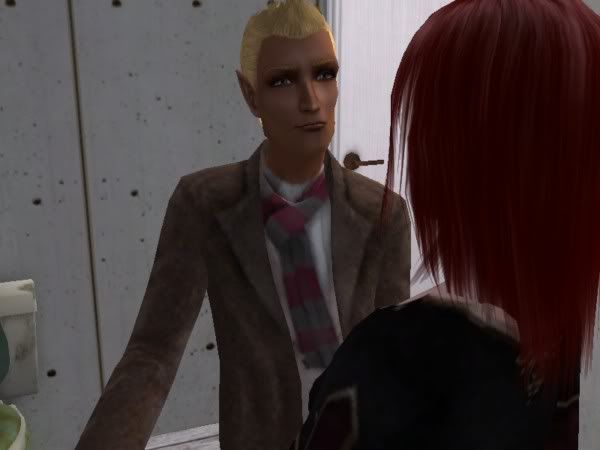 >> Next Chapter