Richard Capp is the fourth of the five children of Consort and Contessa Capp. Singled out for abuse by his domineering mother and mean-spirited father, Richard grew up resentful, wild, and cold. He fell in love with a girl named Anne and married her much too young. They had two children, Tybalt and Hermia, whom Richard resented for coming between him and his bride. By the time Anne died, when their children were still young, she and Richard were no longer on speaking terms.
Richard, in the blue pajamas, surrounded by his most recent family. From left to right, his niece by marriage, Holden Patrick; sister-in-law Niamh Patrick; Rowan Murphy; Bronwyn Murphy; and Sinead Patrick Capp.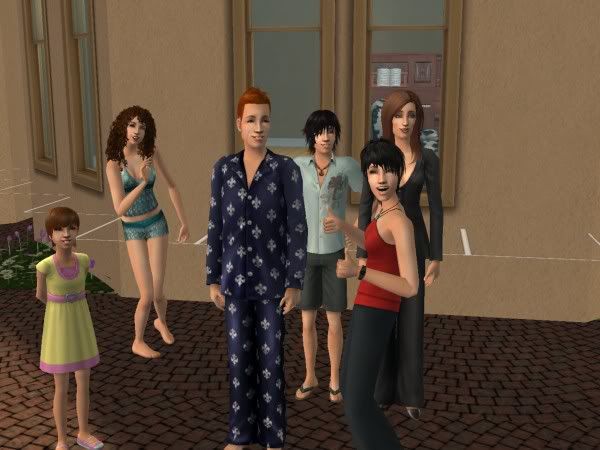 Anne's death plunged Richard into despair and he abandoned his children to be raised by their grandparents. He was found dead a few months later and his father blamed the Monty family, adding fuel to the two families' longstanding feud. But Richard returned many years later, as a vampire. He and Romeo Monty nearly tore the town apart in a war between their two vampire gangs, and Richard finally died in a fight with Tybalt, now a grown man and a father himself.
But that death wasn't final, either. Because of a deal his granddaughter made with death Richard, along with the rest of the townspeople who had fallen, came back, this time as a mortal man. Richard has been on a long, slow road to redemption ever since.
Richard has seven children and another on the way. He is currently married to Sinead Patrick Capp. His children include:
Tybalt Capp, with Anne.
Hermia Capp Monty, also with Anne.
George Capp, with Pamela Landry Capp, Richard's second wife.
Henry Capp, George's identical twin.
Sebastian Monty, with Beatrice Monty.
Bronwyn Murphy, with the late Eva Murphy.
Rowan Murphy, Bronwyn's twin.
Baby Capp, with Sinead, his third and present wife.
Richard's friends include Connor Patrick, Gareth Patrick, and his son Tybalt. He is not on good terms with
Romeo Monty
, Declan Patrick, Fiona Patrick, Beatrice Monty or Pamela Capp.
Richard is Prime Minister of Veronaville and was a hero in the war to overthrow Gary. He regrets a lot of the mistakes of his past but is wise enough to learn from them and move on. He is a loyal friend and the last person you want to cross.