WHATSOEVER I'VE FEARED


HAS COME TO LIFE


- - - - - - - - - -


Leoben
I've done told you, you son of a bitch, I'm the best there ever was.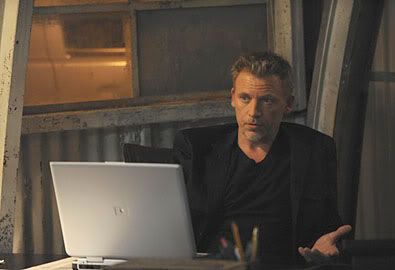 - - - - - - - - - - - - - - - - - - - - - - - - - - - - - - - - - - - - - - - - - - - - - - - - - - - -

I guess there's 26 hours to waste,
and Beth would love to spend it with you.
Cops are saying trauma after long enough to know its an addiction.
The spirit attached itself to Rice-Cakes, Dom, and Lazarus.
Take a left on Broadway after Mr. Bimble in my thumb and a member all ready.
After all planes crash,
and apparently clowns kill.

JUST WHEN EVERY DAY




SEEMED TO GREET ME WITH A SMILE

• • •

Nicknames:

Leoben, Leo, Ben, Gilroy (Long story and he won't tell why), Mr. Bitch (Another long story and thanks to Crowley). He also does business under the name Leoben Gilroy.

• • •

Age:

his meat suit, eh, 48. Leoben 600 years old (but will claim older to impress the ladies)

• • •

Birthdate:

pppffffttt right. March 15 for his meat suit so He guesses that works for him.

• • •

Occupation:

Rogue demon will work for who ever he wants for the right price. Crossroads demon who uses virtual crossroads to do his deals for the wealthy....and also for his own profit.

• • •

Sexuality:

Heterosexual

• • •

Hometown:

Galway Bay, Ireland (Hell is there too but it's such a dirty place to call home that he'll stick to Galway Bay)

• • •

Character Type:

Demon

• • •

Play By:

Callum Keith Rennie

SUNSPOTS HAVE FADED




AND NOW I'M DOING TIME

• • •

Talents:
Ah Leoben. The demon of many talents. He's embraced the current century in order to do his business. So with the right clicks of some buttons and a certain code, you've got his website that he's designed. He runs the website like its on line dating. You tell him what you want, he'll set up a meeting if interested (And he's always interested) and the deal will go down. He can get people to do what he wants them to do by simply listening and telling them exactly what they want to hear. He knows how to do certain spells, only enough to make him dangerous but he refuses to be called a witch or a warlock (dirty things). But some times the spells backfire and well....that's where the nickname of Gilroy came from. (bad memory). He's skilled in fighting, torture (yet he'd prefers to not torture if he doesn't have too..its so messy). Business ventures are more his skill set and he's the one demon that may sit in on the next big merger and get a hole in one when it comes to everyones soul. (He may only take a year of servitude when it comes to them) Most importantly, Leoben is creative when it comes to his deals. Some may be to send em to hell with a message that 'Leoben sent me to cover his debt' while others are in his own servitude. Some may even only have to repay the favor to him by either getting him another contract or securing something of importance for him. What most don't know about Leoben....he's always armed. He is also a skilled archer from living during the Middle ages. Leoben is a skilled horseback rider and it's probably the one thing he does still do from his human past.
• • •

Special Knowledge:
Leoben knows the Christian faith. He had it burned into his brain by an over zealous hunter who tried a different approach to destroying a demon back in 1774. He can recite the scripture just as well as any follower of God. He knows the names of angels, even going so far as to taunt a few of them on occasion, due to his desire to always know his enemies. He can speak a little Ennochian, enough to swear with but not enough to do any real damage with. He learned it from Alastair...when he was learning how to torture. He can speak Irish Gaelic, Russian, and Latin. He prides himself on being well educated so its not like Leoben to be reading a book on how to make better deals or something along those lines. He's just tries to keep himself one step a head of his demonic brothers and sisters in business deals and in keeping himself from being offed. He knows how to care for horses and they seem to like his evil soul for some bizarre reason.
• • •

Powers and Vulnerabilities:
Leoben gets Migraines from when a spell went wrong. Of course he had to seek out help for the spell but the migraines have remained. The demon self medicates with Vodka. He also is fated to forever be trapped by the usual demon traps. Devil traps, salt, holy water and everything else he hates. The winged sociopaths can send him back to hell as can an exorcism but he's always quick to deal his way out of it. He can also be killed by the colt or Ruby's knife.

He is skilled in making deals, and unlike his demon brothers may even heal some one who 'impresses him'. He has all the typical abilities of demons though rarely uses them unless provoked. Leoben calls himself a demon of enlightfuckingment.
• • •

Reputation:
Well, Leoben has a reputation all right. Just not the kind some demons thought of. He's known among the Lucifer loyalists as the betrayer. One even went so far as to call him 'God Fucking Judas'.To the hunters he's an interesting fish--some not knowing if they should kill him or work with him. Angels...he doesn't deal with the winged sociopaths and could careless what they think of him. What other demons think of him, save for the ones that see him as branching out, is little concern for him. Domino Foyet has personally called him 'spineless' and has threatened to gut him on sight. Leoben sees himself more along the lines of a very well funded silent partner that better be listened too when it comes to his deals with humans. In some ways there are technically bigger fish to fry then Leoben at the moment.
• • •

Personality:
Pride cometh before the fall. For this cocky son of a bitch it just can't seem to come fast enough. The luck of the Irish runs freely in his veins and Leoben jokes it keeps him a float. He lives a life in a want, take, have style. For Leoben he does what he wants when he wants and that's that. He does have a sensitive side, and has been known on one occasion with only one hunter to have torn up her contract. He won't admit her name or why but he did it. He's a cocky Irishman, he normally enjoys inhabiting his own country men instead of foreigners, though he accent is almost all gone.

While yes, he did betray his Lucifer loyalist brothers, after seeing the "bigger picture", Leoben claims that the price was just too good not too. Leoben is all about the money. He's silent about his time attached to the same hunter that the tore up the contract with and even the connections that he formed with several hunters during that time as 'Gilroy'. He's got a temper that takes a while to blow and normally isn't the one to laugh at the poor stupid jokes of todays time. In fact modern comedy bores him just like modern horror movies. Give him the oldies and he's all there. Leoben is classy, he likes to wine and dine his possible contracts and would never be seen, unless with out good cause, in some dive bar. He enjoys the high life and his contacts with people who want to be the next Donald Trump or President of United States shows it. He tends to rarely use hell hounds, instead going to remind them of their contract if they agree to ten years of the power banana split with a cherry on top, as he puts it. Instead he tends to be a bit more classy. Old poisons are his flare to collect a soul.

Leoben takes offense when some tries to back out of their deal. He tries to be kind, he tries to state that he understands (in this modern world the word of understanding goes a long way) but a deal is a deal. Renege on it and he's not really the demon to have after you. He's personally gutted not only the person who reneged on the contract but their family just for 'carrying his targets DNA' He apologizes for it of course but a deal is a deal. Most demons aren't on his 'Christmas card list' save for a few who spark his interest. Hunters can get his help for a price....not a soul, he'd prefer not to deal with hunter souls again...but for money. When he gets a migraine, Leoben is known to break necks...literally if you infuriate him or his head. It's best to just get him a bottle of vodka and a dark room and let him suffer it out. The migraines are probably his one weakness where he can be considered completely helpless.

He also tends to be creative when speaking. (IE: 'I'm putting that demon on Christmas Card list. Send him the one of baby Jesus...just make sure he's still covered in all the after birth.'). On a side note, Leoben enjoys yogurt with a passion. If he had to eat one food all the time, he'd choose yogurt....mainly blueberry. He has no liking for rap music and would choose silence instead of the annoying music. Oh and he enjoys tormenting Ghost hunters...they just jump at everything and call it demonic!
HOW WOULD I KNOW




THAT THIS COULD BE MY FATE?

• • •

Family:
Leoben was unwanted Bastard that was dropped off at the abbey. His mother was a barmaid and his father a noble man that raped her. When he was old enough, he ran away and claims to have no family in this world.
• • •

History:
Born in 1412, Leoben was promptly dropped off at the steps of a monastery and given up to be a monk. His mother had been a bar maid and his father a Norman noble man giving him the right to brag if he ever knew that royal blood ran through his bastard veins. Instead he went on to work in the stables and the church tried to turn him into a good little soon to be monk but Leoben ran away from the monastery and joined up with a group of outlaws after being caught stealing a horse. With them he learned how to sword fight, box, and even some archery. While they were far from Robin Hood, Leoben was happy with them until he was betrayed by some one in that same circle of outlaws. Leoben also fell in love with a simple Irish girl named Cait. He was willing to leave the like of the outlaws with her her and move to Scotland for a new start. He never knew that he wasn't the only one who wanted Cait's attention.

Arrested for a crime he didn't commit, Leoben knew the only reason why he was being arrested, and later put to death, was because of a woman. That simple fact gnawed at him and it was what turned him 20 years after being on the rack. He quickly was put under the wing of Alastair where he didn't take off doing so well. Torture wasn't his favorite thing to do. Instead he became Lilith's favorite little thing to send out and collect souls. People just fell for the Irish boy's accent and good looks and Leoben simply ate it up. For years he did what she asked when she asked and became a loyal Lucifer follower believing that his 'father' deserved to come out.

Over the years that idea stuck. His first run in with a hunter was in 1774. The old man, clearly never hearing of an exorcism locked him in a salt circle and read the entire King James Bible to him. Three times. Out of boredom and disgust, Leoben left his suit. The hunter, he learned later, went on to label himself top shit for casting out a demon. In return Leoben returned and slit the hunter's throat before crucifying him upside down. He was one of the demons Lilith chose to help her with the breaking of seals, even if it meant that he had to work with Alastair again. He worked mainly on creating diversions...making the angels believe the demons were breaking one seal when in actuality it was another. That was until he ran into Crowley.

The time he spent with Crowley opened his eyes and earned him the nickname of Mr. Bitch due to his desire to have his questons asked. Crowley answered. Leoben wouldn't admit it, but being the demon that is always out for self preservation, Leoben listened. If Lucifer rose then what would be come of them. Sure they were all loyal demons at heart but there would be no need for them. Particularly those who dealt in souls. So he did what any logical demon would have done...swapped sides and went rogue. Lilith learned when he refused to show up to break a seal by sending a messenger in a gorilla suit with a note that read:



"I've changed my mind. The pit should stay shut. Ta-Ta.
PS: Kill the Gorilla for me and I won't have to pay his tab."



After that, Leoben was on his own. He liked it at first, exploring this new world, until he met up with a huntress, who ended up selling herself to him. Well, Fiona's idea of trying to get out of the deal was to kill him. Leoben, figured that she would and the stunt he did next was beyond stupid. Doing a spell that would simply allow him to hop out of his meat suit momentarily, Leoben messed up by getting the wrong translation. His original suit was killed when she kicked him out and he fell into the hands of a "West O'Collen" a business man from his old home town of Galway Bay. Quickly he inhabited the human and set out to find Fiona. The only problem was that while the search for Fiona would have taken a week, she found him in four hours complaining of a migraine...the same migraine he had.

His spell had backfired. Instead of being able to read the spell in it's Romanian, he had a poorly translated copy of it in Latin. Stuck with a hunter during the apocalypse, Leoben 'ungratefully' took the nickname of Gilroy and became a hunter as well for his survival. Fiona kept his secret, mainly because they both believed that they would both die if they didn't work together. She taught him that change was better then remaining the same. Leoben may even have gone as far as admitting that he was falling in love with the hunter...slightly. However, their unity had to end when a group of hunters discovered their secret, after he was outed by a demon who stated that "Lucifer is very angry with you, Leoben". Forced away, Leoben saved them from a group of hell hounds by setting a trap of his own for the hounds.

For his help the hunters found a witch that could set the spell right. Finding himself no longer bonded to Fiona, the first thing he did was tear up her ten year contract while stating "now we're even bright eyes..remember that." After that he was gone, but tragically still plagued with migraines. During the rest of the apocalypse he worked with Crowley, finding the horsemen, collecting things that no demon should have his fingers on (he's the one that found death's syth), and working in the background until Lucifer went back in the pit. After that he was free. If Crowley was ever asked about him he was always Mr. Bitch.

So he did the next thing in this free economy, was to set up his own business. He set up his own e-business for doing his crossroad business. It was safer then trying to get caught by a hunter again or one of his pissed off siblings. He's a semi powerful business man and after Crowley died....raided all of Crowley's personal weapons and other items of darkness before spreading them out all over the world (some say he's got Alastair Crowley's bible of magic buried in a Tibetan monastery. If the price is right, he'll help a hunter but will never do it for a soul again. He'll help his demonic siblings for a price as well...unless you happen to be a friend of his and then he's all ears.
I SURE DON'T MIND A CHANGE




'CAUSE I FELL ON BLACK DAYS

• • •

Member Title:

There's always a better offer

• • •

RP Sample:
Leoben's head throbbed. The constant pounding was slowly driving him insane enough to kill. His blackberry screen continually scrolled through the lists on his e-mail account but Leoben didn't care. People these days were so superficial. Give me money, for ten cents a day you can stop the wrong that is being done to these children. I want power. Make me famous like Marilyn Monroe It was always take take take. What the fuck did he look like Santa Claus?

"Mr. Gilroy?"

Hearing his name, or well the taken last name, Leoban glanced up. He rubbed his temple wondering just how the fuck he was going to get through the meeting. Sure it was just a simple meeting but having to kiss seven bald ugly men wasn't how he exactly expected to spend his afternoon. Still they had paid him good money for this meeting and the money was all that mattered to him. The demon smiled loosely before standing and moving over, his hands deep in his pockets.

"Mr. Fisher, I presume," Leoben greeted. A hand went out and a firm handshake was given before he allowed the man, bald and one of the fatties he have to kiss later on, lead him into the large room. It was his show now, his arena. Phone disappearing into his pocket, Leoben nodded a greeting to the room.

"Well aren't you all a lovely bunch of lugs." He greeted with a smile. They were paying him to give them success not to be a damn wet nurse. "You all asked me here to bless your endeavor. Well tough titties, children, I don't do blessings. You blokes want the heavenly host not my raggedy ass." He let out a little a laugh as his head throbbed. In his skull his brain boomed like it was a sub woofer, in a few more minutes he'd slaughter each one of them if they didn't have any vodka. "You?"

He pointed to a geeky one. Probably had a pencil shoved up his ass to make him sit that tall and straight. "Get me some Vodka, be a chap." The pencil ass looked confused and didn't move. Did he not understand English? Leoben was damn sure he wasn't speaking Romanian again. "Vodka. It's an alcoholic beverage. Russians use it keep warm! Get IT NOW!" Again when the man didn't move, Leoben did swearing in Ennochian under his breath as he did. "A simple shot of Vodka. That's all I needed you pathetic little vermin!"

Moving to the human's side, Leoben swallowed as he forced the human up. "Always having to do things myself," He sighed. With both hands on the man head, the demon twisted it until it rotated all around with a sickening crack. Dropping the body, Leoben sighed. "Right, vodka...anyone?"
I, (Beth) have read the rules of On The Road. I understand them and agree to abide by them in order to participate on this board.
application by multiplicity! with edits by Forger. lyrics by Soundgarden - 'Fell On Black Days'