Title: Hippo Lop baby?
MandMRabbitry - July 17, 2008 05:45 PM (GMT)
My BEW holland gave birth on the 3rd. She had 1 tiny DOA, and then she had 1 huge baby. I've never seen a lop baby this big before. Well after a couple of days the baby had doubled in size, it had rolls of skin and fat on its legs and it's belly was so big, i thought its was going to pop. Everyday it was like this and it was so fat that it balanced on its belly. So to sleep, most of the time it would lay on its back with its legs sticking out. I assumed the first time mom was just feeding it too much. I had also thought that it might be hippo baby, but after looking at Dennie's pictures, i noticed that mine was similar, just bigger, but it has a tail where Dennie's did not.
At 9 days old, its eyes opened up fully. Now at 14 days old, it is still in the nestbox (not out playing like my other 2 week olds) and it's about 3 times larger than a holland usually is at this age. I was curious as to why it hadn't ventured out the box yet so i picked it up and put it on the floor.
It balances on its belly. Its hind legs are splayed all the way out and actually point upwards when it lays on its belly. All four legs are very stiff as if the joints aren't moving properly. The front legs are splayed out as well, just not as bad as the back. After flopping like a fish and wobbling back and forth, he can finally get his front paws to smack the ground and he attempts to pull himself across the ground with only his front feet. He doesn't make it more than an inch in 5 minutes. I think the only reason he is moving at all is because of the constant kicking and webble wobbling. and i noticed if you touch the legs or his sides, his front paws curl upward and get stiff and all 4 legs stretch out and up and stiffen completly. He also can't scratch an itch anywhere with his back legs.
I'm assuming the legs are so bad about stiffness and can't move right because he spent so much time splayed out on his belly without being able to move that it caused his joints to fuse together and stop working right.
Everyone here knows that i hate killing an animal or seeing it suffer, and i know we're going to have to put this one down. but a little part of me is curious to see how this rabbit grows up. It doesn't seem to be in pain so its not suffering. I just feel bad for it because it can't move. Bret seems to think it will learn to walk in another few weeks and he wants us to keep it until then. I'm not so sure though. I think he just wants to see if will learn to function around its disabilities.
What do guys think about this bunny. Is he a hippo, just plan fat, or is there some other condition causing his problems. I'll attach 2 pictures of him. They aren't great but its the only ones that turned out. He was flopping around to much for the ohers to turn out clear.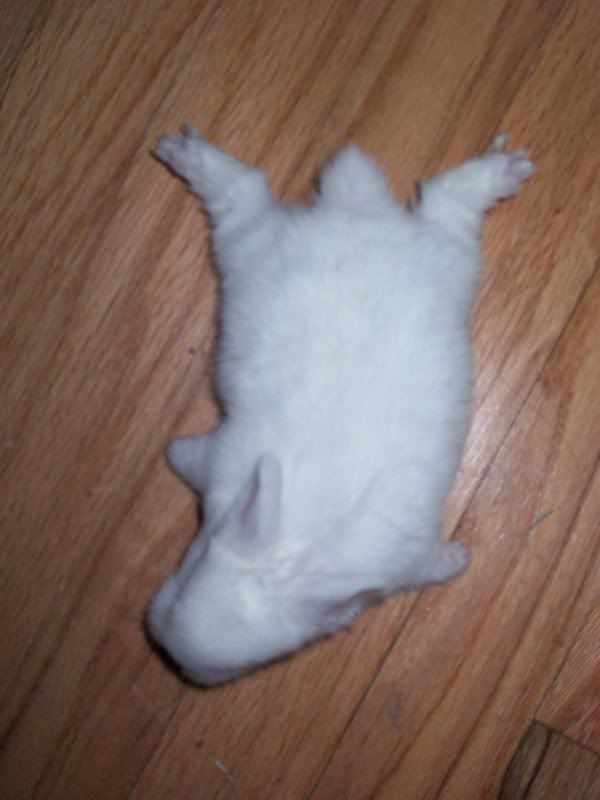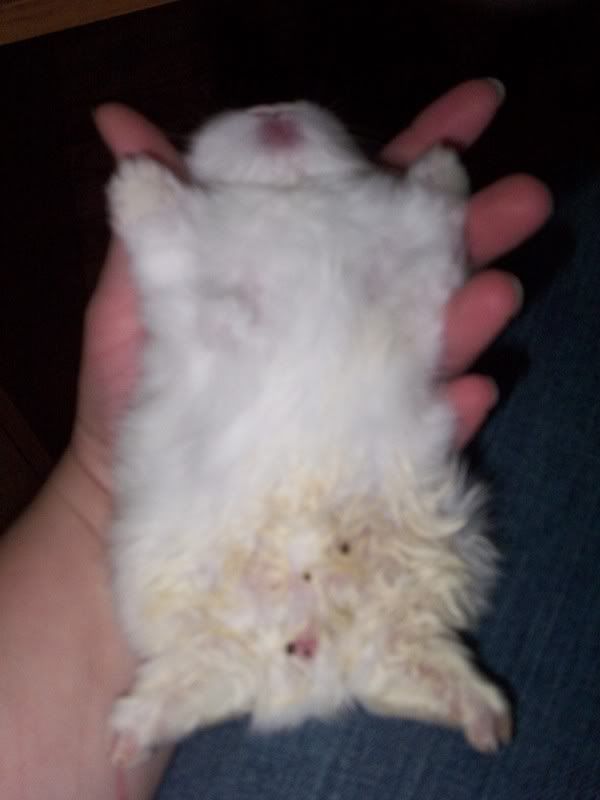 Shadow - July 17, 2008 06:20 PM (GMT)
Not a Hippo cause it has a tail. What might have happened is because it was huge when born it broke it's back during birth and it has no use of it's hide legs. Sorry but use the dry ice method it will be gone in minutes. Shadow
MandMRabbitry - July 17, 2008 06:55 PM (GMT)
Dry Ice method? please explain...it already sounds better than snapping its neck.

And i had thought of the broken back, but my vet said he wouldn't be able to move at all on the lower half. He can move some, he just can't bend and flex his joints. Poor little thing was trying to scratch his ear a few minutes ago and his back leg was stuck straight out doing the scratching motion. Once he realized it wasn't getting the job done, he tryed to stretch his neck back far enough to get his ear to his foot and his fat belly got in the way. I couldn't help but laugh at him. I went ahead a scratched his ear, all that excerise must have wore him out because he fell asleep as i was scratching.
Shadow - July 17, 2008 08:41 PM (GMT)
As small as he is it will only take a small piece of Dry Ice. Put the ice in a plastic tote , as small as he is about 6 by 6 ish. Put something above the ice like a wire grate So he will be above it but not touching the ice. Put him in close the lid wait couple minutes He will be asleep in seconds but give it minutes to make sure he has passed. It is the carbon monoxide fumes from the ice that kill. I know with a bunny that small you are not going to eat it but they are safe to eat just for your information. Shadow
SCG - July 17, 2008 10:20 PM (GMT)
What Shadow said is possibly what happened to it. We just see everything, don't we? :mellow:

I had a link for an article about dry ice euthanasia, but now it's gone. Too bad, it was very detailed w/pix.

Where do you get dry ice?
Shadow - July 17, 2008 10:51 PM (GMT)
Getting the dry ice can be a problem if you live in the boonies. You cannot store it in your freezer because it is colder and will shut off your freezers thermostate. So you have to go get it and use it. I get it at 31 Flavors Ice Cream Store or almost any butcher shop. Shadow
MandMRabbitry - July 17, 2008 11:02 PM (GMT)
Our Harris Teeter grocery stores carry it in NC.
SCG - July 17, 2008 11:32 PM (GMT)
So I googled dry ice and found...
http://www.dryicedirectory.com/
According to this, there's East TN Dry Ice right in town. I figured I'd have to scour the local stores to find it, but there's actually a factory. :lol
Shadow - July 17, 2008 11:59 PM (GMT)
Let me know what it costs you folks per ib. I bet I pay a lot at the Ice Cream Store. I would like to find another place cheaper. But the I ce Cream store is so close. Shadow
MandMRabbitry - July 18, 2008 01:49 AM (GMT)
I went and got my ice today. I'm going to put the baby down tonight. The price of dry ice has gone down. It's only .99 per pound now.
SCG - July 18, 2008 08:27 PM (GMT)
I had to put one down so I gave this a try. Ohyeah. This is the way to go. :wtg I found it at the big grocery for .99 a block.
MandMRabbitry - July 18, 2008 09:33 PM (GMT)
Beth emailed me and said that you tryed it and it worked really well, that the bunny just went to sleep.

I'm such a wuss...me, the baby, and the block of ice have been sitting in the living room for the last hour. Everytime i go to put him in the box, he wiggles and looks at me with those little blue eyes. :worry Its tearing my heart all to peices. I think i'll have to get Bret to do it. I know he hates doing it to, but if it comes down to me doing it, we will still be sitting here a month from now.
Texroselady - July 20, 2008 03:32 AM (GMT)
I noticed yesterday Our Walmart Carries dry ice

I didn't notice though how much it was

I think the next time I have to put one down thats the way
I will do it

TRL........... :unsure:
PWW - July 26, 2008 08:09 PM (GMT)
:wah :wah :wah
I was not prepared to see what this was all about. So sorry about your baby. BUT, if I am going to breed, I know there will be bunnies that I will have to help move to Heaven.
I learned alot on how to do this humanely from this page.
I freaked at first, thinking it was being frozen to death! But thank you so much for explaining that the carbonioxide was actually doing the job.
These are things as responsible breeders that we must face sooner or later. :cry
Thanks for the info.
RaineTreeHollow - August 13, 2008 03:56 PM (GMT)
I never thought of this method..never heard of it before actually. I have a baby that has his back legs splayed & at first it seemed that I was going to be able to keep him as a brood buck. I know it's not genetic because he was overfed as a baby & it pushed his legs out that way. I tried to splint them but no luck.

The reason I won't be able to keep him is that now I've realized he's not able to clean himself & he always has a dirty but.

Anyway, back to the point. I think I am going to have to put him down, but then this girl who came by to look at one I had for sale fell in love with him. He is so sweet & active! I explained to her that his back legs are messed up & that if he is kept as a pet she would have to clean him constantly, but she still wants him. Is it unethical to give away a special needs bunny as a pet?

I'm only asking because he has such an awesome personality & I don't know if I have to heart to put him down. He's about 8 weeks & already knows his name. He is the one on my avatar & his name is Genesis.
SCG - August 13, 2008 04:30 PM (GMT)
It's not unethical to give him away. As long as the new owner understands his issues. The messy butt might go away as he grows and becomes a little more limber, and "clean-conscience".
RaineTreeHollow - August 14, 2008 01:10 AM (GMT)
Thanks, that's good.
I just couldn't stand the thought of since he's not in any pain and seems so happy.