Title: Oinkey
MandMRabbitry - January 3, 2009 05:49 PM (GMT)
well, we have another new addition to the family. This is Oinkey, the 6 month old Con Vietnamese Pot Bellied Pig.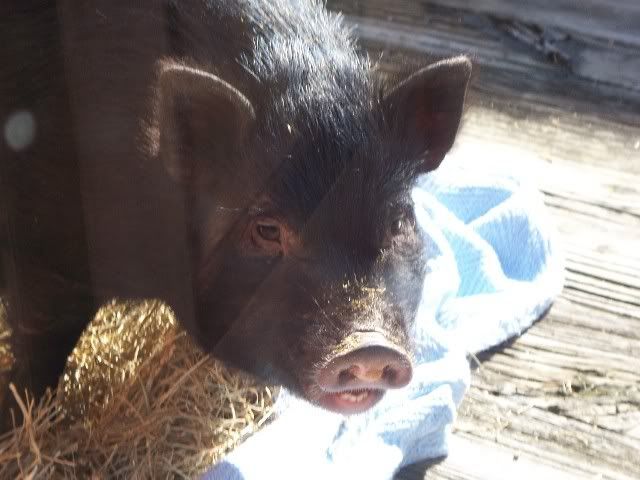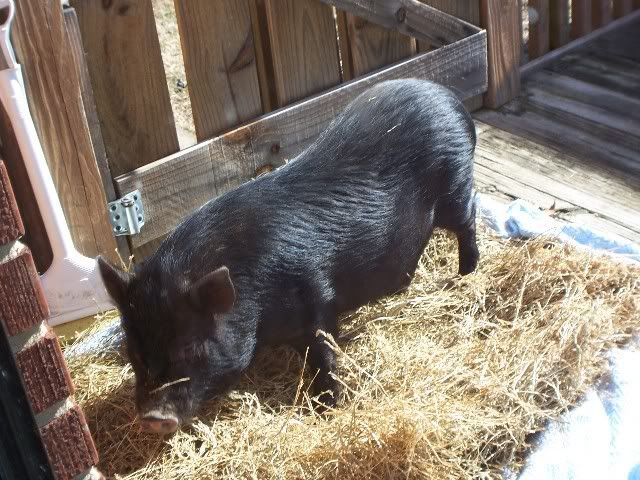 farrah - January 3, 2009 08:04 PM (GMT)
Aww!! Look at that face :wub:
SCG - January 3, 2009 09:11 PM (GMT)
What in the heck are you gonna do with him? Hey how about some pix of the barn and all. I'm curious about where you're putting all these critters.
busy b - January 3, 2009 09:36 PM (GMT)
MandMRabbitry - January 3, 2009 09:51 PM (GMT)
QUOTE
What in the heck are you gonna do with him? Hey how about some pix of the barn and all. I'm curious about where you're putting all these critters


LOL, amazing how i find room for these animals and still manage to keep them a secret in the middle of town. :whistle Give me another week or so and i'll put pix up of the whole place. By then we will have finished building the pig house and the goat house.

I also brought home a baby calf, but it was sickly and died that night. :cry I was gonna nurse him back to health and then send him to a nice pasture to live. I'm sad he died, but atleast i can say i tried, unlike those jerks that had left him in the auction barn to die :mad2

Heck, i almost brought home a mini donkey the other day too. :P But i missed his auction time by 3 minutes. :unsure:

By the way, the pig currently lives in a dog kennel in the kitchen. i just take her out to play and use the bathroom a couple times a day. Training is coming along rather well with her being in the house with me. However, at this moment, she is ticked off at me because i've had her on the porch for 5 hours today since its been so warm, and now i've made her get back in her kennel and come inside. She doesn't seem to understand that she has a cold already and being outside is going to make her sicker, not better. lol. silly pig. :doh
SCG - January 4, 2009 12:21 AM (GMT)
:lol Methinks you need to be staying away from those auctions.

So how much does Oinkey weigh now? Those cute little piggies can weigh over 300 lbs. That's a lotta pork in your kitchen.

I would love to have a mini donkey. It could pull my garden wagon around the yard. I can resist the urge to get one since I don't have the housing for it. And one donkey alone won't be happy, they need to have a buddy.
MandMRabbitry - January 4, 2009 12:40 AM (GMT)
she's about 35 pounds. I'm keeping her on a good diet so she doesn't get gigantic. they project that when she is 2 years old she should still only weigh in around 85 pounds. she may be a little bigger though because of the baby weight she will gain when i breed her.

Mr donkey grew up around goats and horses, so he was going to be friends with our goats. our issue wasn't so much were to keep him, but more like how we were going to get him home from lexington. lol.
KBedard'sbunnybungalow - January 4, 2009 01:22 AM (GMT)
Yeah i usually add a few animals when i go to auctions too. but at least now i have a place to put the bigger ones!!
JD
WhisperingPinesRabbitry - January 4, 2009 02:37 AM (GMT)
Aww cute. You and I should talk. I've been adding animals to our farm like crazy over the past year. Hubby is about to say no more. LOL! I got him a pot bellied pig for "his birthday" last year and we tried the potty training thing but with working it was really hard. He ended up going to my brothers barn (ours wasn't built at the time) and he loves it there. He is a happy camper so it worked out. He is about 100 pounds now. You should see him moving around under the horses feet. Neither seem to mind. It's pretty comical how he fits in up there. His name is Bubba and he is solid black. My brother loves him and we can't get him back now that are barn is built. LOL! :shrug
RaineTreeHollow - January 4, 2009 03:17 AM (GMT)
Aww..looks like my g-parents pig porky. :D
hoppinhills - January 4, 2009 05:26 AM (GMT)
Do you have a huge land lot in town? :D And one more question- how do you keep the critters quiet? Must have some really close neighbors. LOL

Cute by the way.