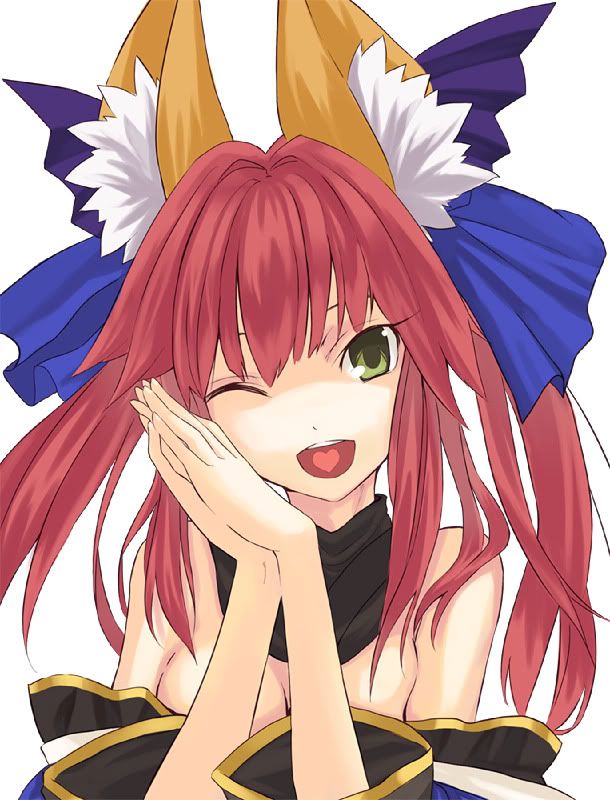 CharacterFull name:
Rinne Luminae (Normal)/Linne Luminae (ALTER. Mode)
Nickname:
Rinne/Linne Kagezuchi
Age:
2 (Offically 17)
Gender:
Female
Race:
Cyber Newtype
Occupation:
Mechanic and Techie, Mobile Suit Pilot Hopeful
Birthplace:
Solaria
Height:
4' 11''
Weight:
97 lb
Hair Color and Style:
Pink, tied up into two twin tails which reach past her shoulders
Eye Color:
Green
Identifying Marks:
Commonly seen cosplaying in some regard, almost always seen with her little fox ears
Skin Tone:
Fair
Build:
Petite
Faction:
Solaria, Senior Chief Petty Officer/Sergeant
About The Character: Family Mother:
Elseia Luminae
Father:
Unknown
Siblings:
Unknown
Personality:
Very simply Rinne is rather childish, attributed to her lack of psychological development. The girl makes up for it with her boundless energy. Rinne will gladly throw herself at any given task as long as it interests her and has a passion for anime and mecha related topics mirror Elseia Luminae, her mother. A step beyond that she likes to dress up in costumes as seen in her shows, or just generally. So despite her job she might be in rather odd clothing given the situation.
Another main aspect is her almost genius level knowledge with mechanics and is always trying to improve herself there along with any programming she can stuff in. Aside from that however her mental growth is rather stunted but rather developed considering the girl has only been alive for two years.
Her alter personality Linne, isn't too sure of herself. She is more aware of things around her thus realizes she hasn't been around long enough to know what she is. To counter this Linne is extremely focused and shows nearly a savant level to understand things and quickly tries to follow up. Rinne retains some of these skills but to a lesser degree. She also gains a more distant streak in her, the only person Linne wont distance herself from would be her mother. Instead she becomes more shy and insecure around her due to the lack of confidence in herself.
History:
As almost a family tradition once Elseia Luminae joined the Kagezuchi family they took the appropriate samples they needed for creating her a child. The more scientific reasoning behind her creation was last checks on the enhanced growth they needed as part of some of the potential military contracts.
Rinne Luminae was quickly matured, faster then any before her which pose some issues memory wise, using a sister project's resources they were able to obtain a device to fabricate memories used in this case to give Rinne a jump start on life but while allowing her to develop into a person all of her own.
Within months they were able to fast grow Rinne to an acceptable level and quickly tried to get the girl interested in whatever they could. Many things they tried seemed to annoy the girl until they tried the hobbies her mother was interested in. Almost immediately Rinne leaped at the prospect and dove into the supplied materials and explored to her heart's content.
An issue arose however during that first day when they tried to get her away from the material to try other tasks. They seemed to have triggered an alternate personality much like her mother reportedly had. It was however undeveloped and almost feral, but despite that it triggered massed curiosity to those involved with her.
After letting the girl calm down and return to normal they strived to make the girl more intelligent, but with their deadline looming ever closer they were limited in what they could do. They banked on triggering the girl's enthusiasm and told her Elseia was showing signs of wanting to become a pilot and that if the girl wanted to be useful to her mother she had to apply herself. It worked like a charm as Rinne leaped at the idea of appealing to her mother.
With what little time they had they drilled Rinne with background roles being involved in repairing and maintaining mobile suits and such. She also showed signs of being a natural mobile suit pilot the few times they were able to get her into the sims as well. They hoped training and other aspects would mold the other personality, but they weren't sure if it was working as they couldn't get too much of a reaction from the other personality. But soon their deadline was up and they shipped the otaku child off to her mother.
The meeting only encouraged the young genius to improve her skills more. The girl quickly bonded with her biological mother, sharing hobbies helped greatly and without any hesitation she tried to follow after Elseia into the military. This called upon the lab's resources once more as they got Rinne the necessary materials required for her to join as well as a false age to raise less questions.
With some trouble in physical courses due to her small stature Rinne eventually got through the training mostly thanks to her skills with machines and computers earning her a well deserved reputation as one of the best techs of her class. Her desire still is too fly in a mobile suit with her mother, but her standing as a tech has kept her content for the moment.