Title: ROSE, HAPPY BIRTHDAY TO YOU
Description: Rose's birthday, many happy returns
Eddy - January 24, 2012 02:19 PM (GMT)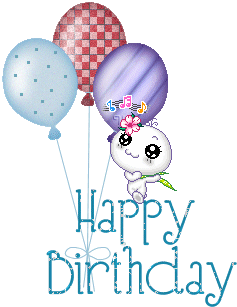 HAPPY BIRTHDAY ROSE.
Hope you have a lovely day with lots of birthday presents and special treats.
Eddy - January 24, 2012 09:10 PM (GMT)
Oh, and here are some birthday flowers. Enjoy!!!
Rose - January 25, 2012 08:16 AM (GMT)

Thank you .

Had a nice day, family round etc and still have birthday cake left too ..


Eddy - January 25, 2012 08:57 AM (GMT)
Left over birthday cake? Save a slice for me.

Hope you had a great day, Rose.

:)
Mootle - January 26, 2012 12:09 AM (GMT)
HAPPY BIRTHDAY FOR THE 24TH ROSE!!!!!!!!

:flowers: :flowers: :flowers: :flowers: :flowers: :flowers: :flowers: :flowers: :bday: :bday: :bday: :grphug: :sunny: :ballon: :bouncygrp: :dancegirls: :bday: :bday: :bday:
Rose - January 29, 2012 10:39 PM (GMT)

Ha Mootle - just seen this, must have taken you ages to do .. Thank you ..

:thumbsup: :applaud: :thumbsup: ( ha )