Since I recently beat this game, I might as well do a review on it. While I am sure not all of you will share this opinion, I hope you will find the dignity to hold your tounge and not be critical of my views.
Story
: MP3 has a good story, which picks up almost right after the events of MP2, with Dark Samus reviving herself in the cargo bay of a space pirate ship. It was a bit lacking in some small ways though, but not in any way that it really effected the story itself.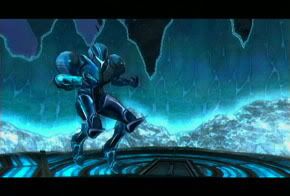 Story gets: 8.0/10
Graphics
: Graphics for the wii are indeed not up to speed with the other consoles, but seriously, when your fighting for your life your not going to notice the graphics too much (I'd rather be blowing stuff up then staring at a pretty, detailed leaf or rock). With that said though, the graphics are pretty good for the wii, so that gives it a bonus .5.
Graphics get: 7.5/10
Gameplay
: As with all wii games, the gameplay is very innovative. You find yourself immersed in the metroid universe as you grab ledges, repair objects, rip enemies to pieces, and shoot in every direction within a 180 degree view. The game takes complete advantage of the wii's control system, so it's extremely easy and fun to play (besides, nothing really satisfies me more using the grapple beam to rip most enemies in half).
Gameplay gets: 9.0/10
Fun Factor
: As you might have guessed from reading the gameplay part, this game is immensly fun to play. This game is basically like MP on steroids when it comes to fun.
Fun Factor gets: 8.5/10
Overall Score
: 8.5/10