Title: map fix- up
generablaker47! - March 3, 2009 04:42 AM (GMT)
can someone help me fix these up please
i have alot of trouble with moutians
in this one im going for a bern like look but without restricted movement
this one needs to be more maze like and challenging
im not very good with this tileset as you can see
i know this is a hard set to work with
thanks for any help
Aeorys Kirru - March 3, 2009 04:47 AM (GMT)
They'd be better if they weren't saved as JPEGs.
generablaker47! - March 3, 2009 05:07 AM (GMT)
yeah i know i need to learn to change that
but i dont know how to change the way i save it.
I made my maps on mappy then i put them on microsoft paint, i save them and put them photobucket and they become JPEJs

i dont know how to save it any differently
Aeorys Kirru - March 3, 2009 05:28 AM (GMT)
Save as PNG or GIF. You're saving them as bitmap (BMP) files, which then get converted to JPEGs on PB.
Firefly_43 - March 3, 2009 05:30 AM (GMT)
These maps are pretty good for a newbie. The mountains in particular are really good considering your level of experience. They fit together well. However, mountains always take a while, no matter how much you do them, simply because of the way you have to fit them together. They require a lot of patience.

A problem I see with the first map is the grass tiles. A tileset will give you a few base tiles that look the same, but are actually slighly different. Using all of these will make your map look better, because even though they look similar, using only one will create subtle patterns that the eye can see, and it looks unnatural. Also, whenever you have bunches of the green hills and mountains, they should be adjacent. You've done that for the most part, but the clump south-east of the central mountain looks out of place.

As for the centre one, if you're going for maze-like, you'll either need to make the map bigger or the temple smaller. Make a bunch of small cave wall sections, and connect them in random ways to create branching paths. It won't be maze-like if you leave it open like that. Some of the pillar positioning looks awkward, as do the stairs. The vertical staircases should have tiles that connect the edge of the staircase to the wall in a more natural way.

The third map isn't bad either. Again, mountains are annoying, but you did okay with them. The tile variance issue I mentioned for the first map has been adressed here, which is good, but there are still strings of the same tile that create unnatural looking pattern. Aside from that, the large amount of cliffs you used around the south-west lake look strange. The way they're positioned, it almost looks as though the bridge has to be angled upwards to connect the two sides. One of the toughest parts of map-making is getting height down, especially when working with castles. You kind of have to use your judgement to determine what works, and that'll develop as you make more maps.

To save it as a non-JPEG file, do the following, taken from Exxucus' tutorial thread:


QUOTE (Exxucus)
File, Export, export as bmp., and then it's a picture which you can upload, or use "Prt Sc" and paste it onto a paint file.
generablaker47! - March 3, 2009 06:08 AM (GMT)
i think i did it right this time
i hope so
this is another map i made a while ago
it looks very much like chapter 17 in FESS
i was just using it to see if i saved it right so its not a JPEG anymore
thanks for all the help with the other 3 maps ill fix them up and see what they look like then.
Firefly_43 - March 4, 2009 12:07 AM (GMT)
No, it's still a JPEG. v.v If you open it with paint, when you save it, go to "Save As" and change the file type to PNG. That should work.
generablaker47! - March 4, 2009 12:46 AM (GMT)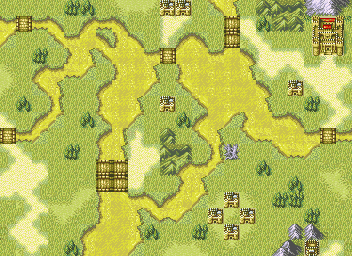 ok im pretty sure i did it finally
thanks for all the help
Firefly_43 - March 4, 2009 01:11 AM (GMT)
Yeah, that's good. No problem.
generablaker47! - March 17, 2009 04:12 AM (GMT)
i fixed one of the maps and i thought i might as well post it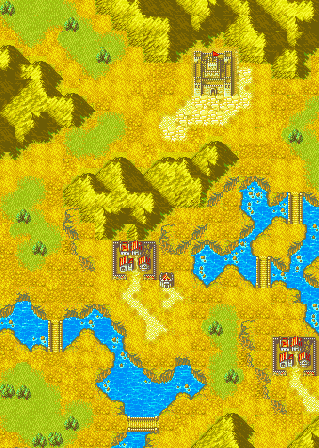 i hate this tileset still
Cugar - March 17, 2009 04:22 AM (GMT)
I'm not as fantastic as Exxy or Yoshi, but the mountains above the middle village don't seem to fit.Use a gallery and you'll get tons of critique*. But props for mostly coherent mountains, newbie.



* This is a lie. Nobody's here.**

** But Exxy can drop something you need to know in most likely.
yoshi71089 - March 21, 2009 05:50 AM (GMT)
Not a necropost, was on spring break.
Like Cugar said, the horizontal part of those mountains don't naturally flow; I'd make those two vertical parts here:
flow straight down, and get rid of the horizontal tips.
Overall the map is pretty good, especially with such a sucky tileset. The only things I see that stand out are actually the fault of the actual tiles, so really the only thing you can do to make this map flow better is to go in using Paint and edit the tiles yourself (run-on sentence FTW).
Are you actually requesting something, or wanting critique on your maps? If the latter, you can just post them in your gallery. ;)
generablaker47! - March 21, 2009 07:19 AM (GMT)
thanks for the advice

i was requesting advice and help with these maps or if someone wanted to remake it and help me out but it kinda turned into a critique so ill post all my maps in my gallery now