Brody Adelard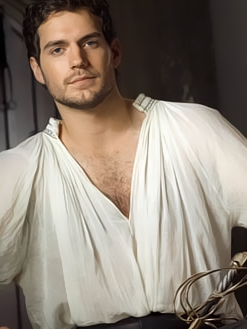 27 | Citizen | Outlaw
(he takes work where he can get it, often hunting and doing physical labor)
the sketch.
stats.
Height: 6'0"
Weight: 176lb.
Build: Athletic, but not particularly bulky by any means. The effects of hunting and laborious jobs are obvious, but he hardly looks imposing, despite his height.
Eyes: Blue
Hair: Brown
Other: The idea of Brody remembering to shave is almost laughable.
Skills. Personality. Quirks.
Skills:
Hunting and tracking
Angering authority figures
Attracting young women
Fixing up homes (repairing walls, thatching roofs, etc.)
Working horses
Getting in trouble with guards
Running away
Passive magic- truthsaying
Charismatic and Charming
Brody certainly is a charmer. He loves a good bit of flirting, and his greatest skill is arguably his ability to be an effective smooth-talker. In the past, he has talked himself out of more than a few bouts of trouble.
Impulsive
That woman's gorgeous! What, she's married? No matter-- Brody's already sweet-talking her like she's some maiden looking for someone to take her off her father's hands. Her husband's that massive behemoth standing behind him? Oh, well . . . that's unfortunate and not at all unexpected. Brody has a habit of getting himself in and out of situations like this, and it seems that no matter how many times he gets himself punched in the jaw, he'll never learn his lesson. The man almost never seems to think before he acts, and while this makes for a lot of fun, it also earns him a lot of pain.
About as Serious as Someone Who Isn't Serious at All
While Brody's facing that lovely woman's brute of a husband, he'll smile broadly and laugh. He'll pretend he doesn't think the guy could crush his face and try to depart with a playful wink for the Mrs. . . and then he'll probably get his nose broken. Don't expect anything but sarcasm and jokes if you try to talk to him about his feelings, and certainly don't expect much sympathy and support if you try to talk to him about your own.
Flighty and Commitment-phobic
He hates to stay in one place too long, sign on for one job for too long, or commit to any one woman for too long. Brody might as well be married to the road, and his apparent love for staying on the move and switching gears at a moment's notice certainly helps him get along in life when people try to run him out of town or chase him around. He's good at disappearing, and he does it often.