Corvie Daw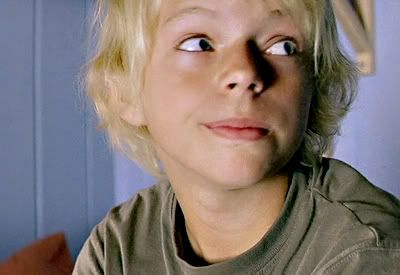 14 | Citizen | Seller of crap Fine Goods

the sketch.
stats.
Height: 5' 5"
Build: Slight
Eyes: Brown
Hair: Blond
Other: Corvie kind of looks…strange. He's a blatant example of an awkward teenager dealing with the equally awkward throes of puberty and growing up. His eyes are weird and his front teeth are large and his lips are too thin and his jaw is too wide and his nose is pug-like. Overall, not exactly a dreamboat, but he has his cute moments. Sometimes.
Skills. Personality. Quirks.
Corvie comes from a long line of thieves (not really) and is desperate to prove himself to his father and older brother. Unfortunately they're not quite ready to let him loose, and they need him to hock the junk they steal to unassuming refugees. Corvie is quite good at barking and lying and making a ruckus to get attention. His magpie Snuff also helps with this by squawking and perhaps physically tugging people toward Corvie's stall. Snuff also occasionally pilfers coins or shiny things from people, though the items are usually cheap glass knock-offs. Snuff usually perches on Corvie's shoulder, or even his head. Since Corvie is on the shorter side, he enjoys walking through crowds with the bird squawking at people at eye-level.
So said a small blond boy to a pack of eager and bored street urchins:
"Jack Daw realized somethin' tweny-two years ago, when he was a young man. The refugees tricklin' into Escova were homesick. They never wanted to leave their homelands, and they dragged whatever bits of it they could with them. Jack took this opp'tunity to stock up on things they mighta liked to have, and sell them for double the price.
He did pretty good. Over the years, more refugees came, the trickle turnin' to a stream. He made deals with other people in shadowy places to smuggle things in the refugees might like, though a lot of the time he was buyin' historic artifacts stolen from ancient cities that got ruined in the war. Some o' these he kept, others he sold to high-thinkers or nobles or even a merchant. Whoever could pay.
Then one day he met a pretty refugee named Margot, and he tried to rip her off. That didn't work. She laughed in his face at the crap he was tryin' to sell, which was a tiny thinga "love potion" which was really jus' some cheap wine from Margot's home country. She reconized it and called him out on it and demanded her money back, and somehow that ended up in the two of them getting' married. Well, first she got pregnant, then they got married.
Turned out for the best though. Margot knew a thing or two 'bout real brews and lotions, and also how to fake 'em fer cheap and sell fer more. She didn't feel so bad takin' advantage of other refugees, since she knew this was a far better way to earn money than whorin' herself out. Jack and Margot got their first son and named him Pike. Jack was ecstatic to have a boy, 'cause he was the sort to want a boy more than girl, no matter what he said to his eye-rollin' wife.
Two years later they had another boy, and named him Corvie.
Corvie grew up knowin' how to be a showman, how to talk and sound like he knew what he was talkin' about. He learned about stealin' and lyin' and welcomed the vices. He knew some about religion from his father, as Jack did pray and went to the temple and he dragged the boys along too. Margot didn't go in for Pryyo and the other gods so much. But for all the religion, the Daws grew up cheaters—moderately successful cheaters.
Corvie grew up in his brother's shadow. Because Pike was older, he got to do everythin' first. He wasn't necessarily better than Corvie at anythin', because Corvie couldn't do it. But Corvie was jealous and always tried to show his parents that he was up to the same challenges. It didn't work very well when he tried, since he was younger, and littler.
Then one day, when Corvie was 'bout six, he discovered a magpie's next in the bushes behind their tiny courtyard garden. Inside was a single egg, and Corvie stole it, nest and all. He brought it inside and kept it warm and when the thing hatched Corvie was there to be its mama. He named the little magpie Snuff, and at first he just wanted a pet. Somethin' to make him special, somethin' that Pike didn't have.
Snuff matured and turned into somethin' more than just a pet. Its shiny-likin' tendencies helped in thievery too. He would hop and fly and pluck things from the ground, or in trees, or on windowsills, or from people's hats and hair, and take 'em back to Corvie. Sometimes it was jus' a ribbon or a glass earring, but every now and then he brought back coins, and once a gold ring. He became the thief that Corvie couldn't be, at least just yet. Corvie even went so far as to teach the bird a few simple, one-word commands.
Corvie and Snuff now wander through the city tryin' to sell crap, passin' it off as sacred relics or historic artifacts or rare potions. They get enough money to keep doing it, and Snuff is trained to notice soldiers by their uniforms so he can give Corvie a warnin'. Still, Corvie yearns to work his way up to the glamorous world of pocket pickin'. And after that, who knows!"
The small blond boy shined his dirty fingernails and polished them on his dirty shirt. "Someday, Corvie'll be runnin' the show."
"What show?" asked one of the children.
The boy frowned at the kid. "Jus'…shaddup. Now I gotta go. Have at yer storytellin'." The boy left the gathering of bored street urchins and scampered into a back alley. A moment later a bird landed on his head and dropped something into his waiting hands. A few bronze coins pulled from the little urchins' shallow pockets.
"Hey yah," Corvie said with a grin. He patted Snuff on the head. "Good work."
PB claim:
Magnus Solhaug
Player name:
Pleti
Contact info:
Check Welkin's profile! Or just PM me.