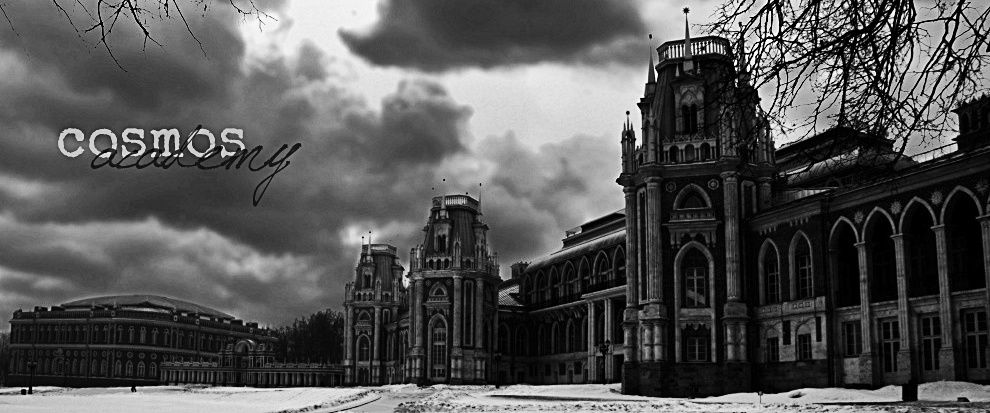 WELCOME

Congratulations on your acceptance to Cosmos Academy! We are delighted to have you as a student and as an asset to our campus and community. As a part of our Academy, you will be placed into a house upon your arrival to campus and successful completion of the Opening Ceremonies. There are some things to keep in mind, however. This is a mature learning facility and we expect you to behave as such. We also expect you to treat your fellow pupils with respect. If any issues come up, please, do not hesitate to PM a Mod or Admin.




UPDATES

Coming Soon:
"...You want me to help you bomb government headquarters!?"

Site is currently closed.
Check back for updates.



Month of March
"olycksbådande"




SETTING

"These are dangerous times. To say what you feel is to dig your own grave…."

"The island of Ilmatar is no longer the haven for the supernatural world. Enchantments and magic were not enough to keep Cosmos or the town of Avalar safe. We should have seen them coming. When our children were killed in other lands, we should have known. This revolution…it cannot be contained, it's too late now. A spark has caught in the hearts of students and an inferno will bring about chaos and darkness, however, it would be wise to know that fire will always shine the brightest in complete and utter darkness." - Aloric Cornelius Wolfgang (February, 19th, 2115)




CHARACTER COUNT

Cosmos Professors:
♀ 4
♂ 9

Underclassmen:
♀ 2
♂ 1

Upperclassmen:
♀ 10
♂ 11

Avalar Citizens:
♀ 2
♂ 2






IMPORTANT LINKS




STAFF




Plot Status:




CHATTERBOX




Affiliates






Credits

Sidebar: Dana
Coding Help: RCR
Skin by Kuno. Graphics by Kuno. Photoshop brushes by Obsidian Dawn. Header photograph by Michael-Rayne of Deviantart.com.



Skin by KUNO of this site right here! Steal it and I hunt you down and slaughter your firstborn. Seriously. Many hours went into the making of this. Many, many hours.