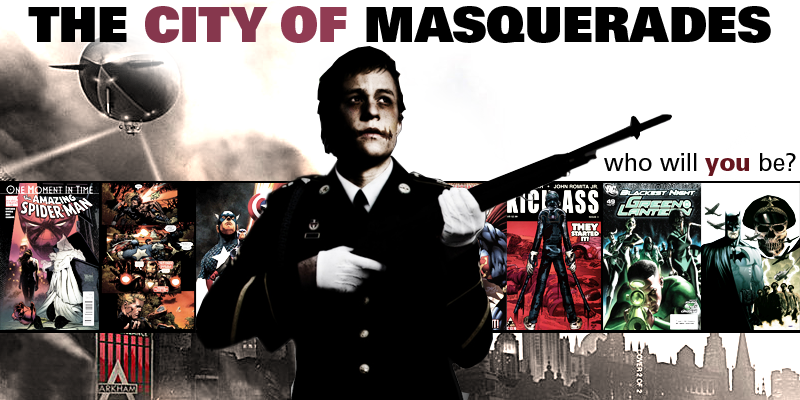 Welcome to City of Masquerades. We hope you enjoy your visit.


You're currently viewing our forum as a guest. This means you are limited to certain areas of the board and there are some features you can't use. If you join our community, you'll be able to access member-only sections, and use many member-only features such as customizing your profile, sending personal messages, and voting in polls. Registration is simple, fast, and completely free.


Join our community!


If you're already a member please log in to your account to access all of our features:


YO!
REGISTER
as your character's FIRST NAME LAST NAME in CAPS!
Be sure to reserve your
CANON
if you're worried about someone ninja-ing it. You need to check out the SUPER brief
PLOT
and the
RULES
.
---
This is a CANON AND OC intermediate to advanced comic-cross over forum! Since your comic characters will all be reinterpreted/rein-visioned by you, their playbys also need to be new! Please refrain from using their movie/film/tv counterparts for their portrayal. Use the C-Box and if you have any questions or concerns, or if you just wanna chillax with some BADASS people.

This forum was heavily inspired from the indefinitely closed rpg,
SUPERMANCAN'T FLY
. Codes for templates, skins, and layouts were used with credit from
RPG-D
and
CAUTION 2.0
. We do not claim ownership of the characters depicted and portrayed in this forum. All respective characters belong to their respective owners. Graphics were made by FFP. Character templates and posts belong to the members that wrote them.
NEWS AROUND GOTHAM

THE SCRATCHBOARD

Looking for someone to roleplay with but don't know who to thread with? No problem! Go check out the brand spankin' new fancy

Scratchboard

topic in the Shipping forum now and get a buddy to start a topic with!

REBOOTING

Hello returning members! If you want to retain your old characters and discuss how you feel about the reboot and what changes you would like to see in the new version please post

HERE

. Members have until May 25th to keep their old characters! If you don't respond, then they're going to get moved.

DON'T KNOW WHO TO PICK?

For those who have trouble deciding a character to register as, don't forget we have inactive and already completed applications waiting to be adopted in the awesome

adoption center!

If that doesn't satisfy you, try out the

request forum

to get an idea what's needed by our community!
Forum
Topics
Replies
Last Post Info
INACTIVE APPLICATIONS
All complete/incomplete applications of former members, or applications left as WIP for too long is moved here. If you wish to reclaim your old applications, please re-apply! : )

19
29
Dec 12 2010, 10:30 PM
In: SYDNEY NYBAKKEN
By: MARVELOUS DETECTIVE
ROGUE OF DEAD APPS


The collection of former apps.



30
30
Dec 18 2010, 08:20 PM
In: Peter Parker
By: MARVELOUS DETECTIVE
Open Topic (new replies)
Open Topic (no new replies)
Hot Topic (new replies)
Hot Topic (no new replies)
Poll (new votes)
Poll (no new votes)
Locked Topic
Moved Topic