[dohtml]<center><table><td><td valign="top"> <div style="width: 450px; height: 11px; background-color: 0d0d0d; text-align: center;"></div>
<div style="width: 450px; height: 606px; background-image: url(http://i157.photobucket.com/albums/t78/theforkoftruth/klaytempback.jpg); text-align: center;">
<center><div style="width: 420px; height: 606px; background-color: 1a1a1a; text-align: center; padding-top: 5px;">
<center><div style="width: 410px; height: 4px; background-color: 1e1e1e; text-align: center;"></div>
<div style="width: 400px; height 200px; border: 5px solid; border-color:242424;">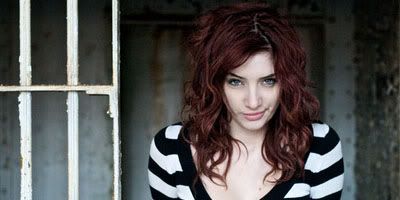 </div>
<div style="width: 410px; height: 23px; background-color: 242424; text-align: center; font-family: courier new; font-size: 23px; letter-spacing: 2px; color: dcdcdc; line-height: 8px; padding-top:4px; text-transform: uppercase;">LIGHT ME UP WHEN I'M DOWN <br>
I DON'T THINK I CAN BE ANYTHING OTHER THAN ME
</div>
<div style="width: 410px; height: 4px; background-color: 1e1e1e; text-align: center;"></div>
<br>
<div style="width: 410px; height: 4px; background-color: 1e1e1e; text-align: center;"></div>
<div style="width: 400px; height: 250px; background-color: 242424; text-align: justify; font-family: trebuchet ms; font-size: 9px; letter-spacing: 1px; color: 515151; line-height: 12px; padding:5 5 5 5px; overflow: auto">
<span style="float:left;font-size:60px;line-height:33px;padding-top:8px; padding-right:2px;">
S
</span>he couldn't help but smile when the guy turned to face her. She remembered him. Well, maybe not his name, but his face certainly. And when he said her name, she realized that he too recognized her. It only made her smile grow to a grin. Although it was a little awkward for her, not remembering his name. Inwardly she scolded herself for that. And she knew that she would have to ask him for it because she would need it to find his reservation. Well she was sure that she would recognize it from now on, right? She wanted to say that third time was the charm but then again she couldn't quite say how many times she had been told him name. She wanted to say that it was something with an "s" in it, but of course so did a lot of names. Well great, good job to her for not knowing his name. And of course knowing who her alter ego was she, she should have been better at learning and memorizing names. Not that he looked threatening or that he might be involved with the crime world or any thing, it just seemed like a good idea to keep track of people who repeatedly showed up in her life. Or maybe she was just being paranoid and over reacting.
<p>
So he was here to pick up a book. Well that meant it should be easy to help him find what he was looking for at least. "Okay," she started to say as she turned and began to lead the way to the front desk where they kept all of the books. She trusted that he was following. "What was the last name and the spelling it was ordered under?" Of course she knew well enough that just because he was the one picking up the order, often people would send family and friends to pick up orders, so she could not be sure that this was his real name. Guess it was not such an embarrassing thing to ask, but she was hoping that it would tell her his real name, so that way they could be on equal terms. After all how far was it that he knew her name and she did not know his? She would have to fix that. And then in the future maybe she could surprise him by remembering his name. "And you don't have to be sorry about anything." She added as an after thought. She also wondered if she should mention that she was flattered that he remembered her name but she decided against it. She did not want to be giving him any ideas. Besides it was not like they had had a chance to really get to know each other or anything. He would have to buy her coffee or something else of that nature before she admitted to him that she was flattered. She also knew what guys could do with a thought like that. She knew that Dick Grayson probably would have turned it into some very inappropriate. She had learned the hard way.
<p>
Barbara glanced around the bookstore. Busy would have been an understatement. Although at the same time she had seen worse. Those were the days she always worked hard to avoid, but she also ended up working many of them because there were just no enough employees to avoid all of them. It wasn't like they were paid enough to survive those days. And those were the ones where she always thought of quitting. Today was certainly crazy though. Inwardly she cursed the last minute gift shoppers. "It is packed," she agreed, "Although I have experienced worse." She said, shaking her head. The one benefit of the economic downturn was that those types of days were farther and fewer between. But then again, it was days like these that gave her more of an opportunity to see the good loyal customers like him, although against she was not going to admit that. And she wondered if her was worth seeing again. He certainly had the good looks, and a nice smile, but that hardly said anything about his personality. But he also was not hard to help, and had been nice enough to let the older lady just now steal the guy helping him. That had to count for something, right?
</div><div style="width: 410px; height: 4px; background-color: 1e1e1e; text-align: center;"></div>
<br>
<div style="width: 360px; height: 4px; background-color: 1e1e1e; text-align: center;"></div>
<div style="width: 350px; height: 40px; background-color: 242424; text-align: justify; font-family: trebuchet ms; font-size: 9px; letter-spacing: 1px; color: 515151; line-height: 10px; padding:5 5 5 5px text-transform: uppercase;">
THIS POST IS TAGGED FOR
Jason Todd
, AND IS
731
WORDS LONG. MY CHARACTER IS WEARING
Dark Grey sweater, blue shirt, jeans
. OH, AND I WANTED YOU TO KNOW
sorry it took awhile long than I expected
.
</div><div style="width: 360px; height: 4px; background-color: 1e1e1e; text-align: center;"></div></center></div></center></div>
<div style="width: 445px; height: 10px; background-color: 0d0d0d; text-align: right; padding-right: 5px; padding-top: 1px; font-size: 8px; color: 41392b;">TEMPLATE BY
ASHOO !
OF CAUTION 2.0</div>
</td></td></table></center>[/dohtml]